SonLight Power outreach depends on financial support from heroes just like you.
You'll be amazed at what God is doing through your support of SonLight Power. Beyond what the numbers can tell you, it's in the life-changing stories you've inspired.
Your support endures in the life of Fernando Amaya, a young student from Concepcion, Honduras who recently participated as a photojournalist on one of our mission teams. Read Fernando's before-and-after story to see how you transformed his life.
Your gift to SonLight Power is an investment in impact for kids like Fernando who grow up without basic human services that electricity can power. And because solar power is sustainable, your investment produces immediate change that endures for generations.
To make a gift, visit our online giving page.
See why the owner of Cincinnati-based Honeymoon Paper Products invests in SonLight Power and encourages others to do the same:
WAYS TO INVEST IN IMPACT
Monthly Giving:
We encourage you to become a SonLight Power Monthly Partner with a monthly gift of $25 or more. Recurring gifts can be initiated on our online giving page. Or if you prefer, they can be automatically deducted from your checking account. Simply set-up a monthly bill pay arrangement through your bank to SonLight Power.
Stock Giving:
If you've experienced market gains, consider a gift of stock to SonLight Power. Charitable gifts of appreciated stock can provide multiple tax benefits. By supporting SonLight Power through a gift of appreciated securities, you can deduct the full fair market value of the stock. Plus, you won't have to pay a capital gains tax on the appreciation as you would if you sold it and contributed cash. As always, check with your tax adviser for the best approach for you. Call us at 513-285-9960 Ext. 0 or e-mail us at Communication@SonLightPower.org to coordinate a gift of stock.
Giving from Your IRA:
Are you over 70 years old with an Individual Retirement Account (IRA)? Have you met your IRA's Regular Minimum Distribution (RMD) this year? A gift to SonLight Power can make a sustainable impact, meet your RMD and likely do so tax-free as a Qualified Charitable Distribution (QCD).
Major Giving & Estate Planning:

Without dedicated people and infrastructure, it's hard to solve big problems like energy poverty. Major gifts are investments in SonLight Power that can accelerate the completion of strategic mission projects to transform lives on a large scale.
Wondering how your philanthropic goals align with SonLight Power? Thinking about including SonLight Power in your will or estate plan? Call us at 513-285-9960 Ext 0 or e-mail us at Communication@SonLightPower.org.
We're grateful for the major giving endorsement of Mark Fisher, featured in the following Cincinnati Business Courier article (see yellow highlighted section):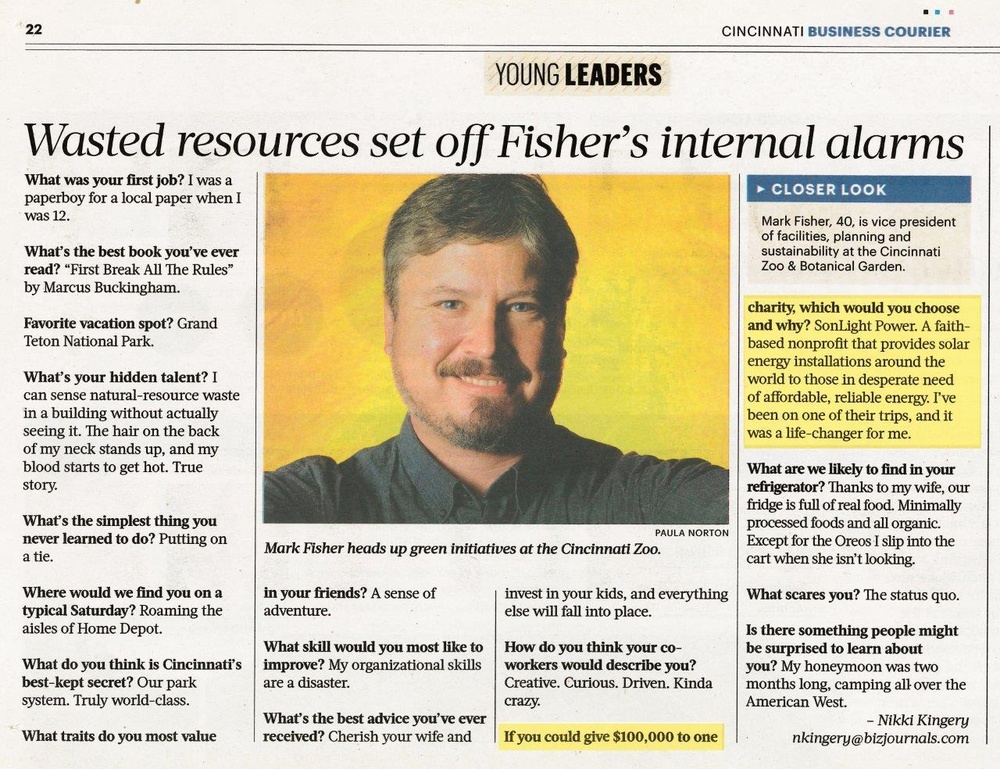 Affiliation Programs:
The following consumer reward programs allow you to support SonLight Power through the purchases you make every day, without costing you an extra penny. Consider enrolling SonLight Power in these programs when you shop...
Kroger Plus Card
Kroger contributes a portion of your grocery bill to SonLight Power through the Kroger Community Rewards Program. And it won't affect your Kroger gasoline discount. Think milk, bread...and solar power.
To sign-in and enroll your Kroger Plus card for SonLight Power, click here.
AmazonSmile
To sign-in and enroll SonLight Power as the organization you would like to support, click here.
---
Financial Accountability