September 6, 2017 / Kentucky Installation / Source: John Stowell
USA: Newest SonLight Power Mission Field
On the edge of Kentucky coal country, there is a church. It lies at the bottom of a hill, which gives you a good vantage point of the church's roof and the 80 sun-drenched solar panels that now adorn it.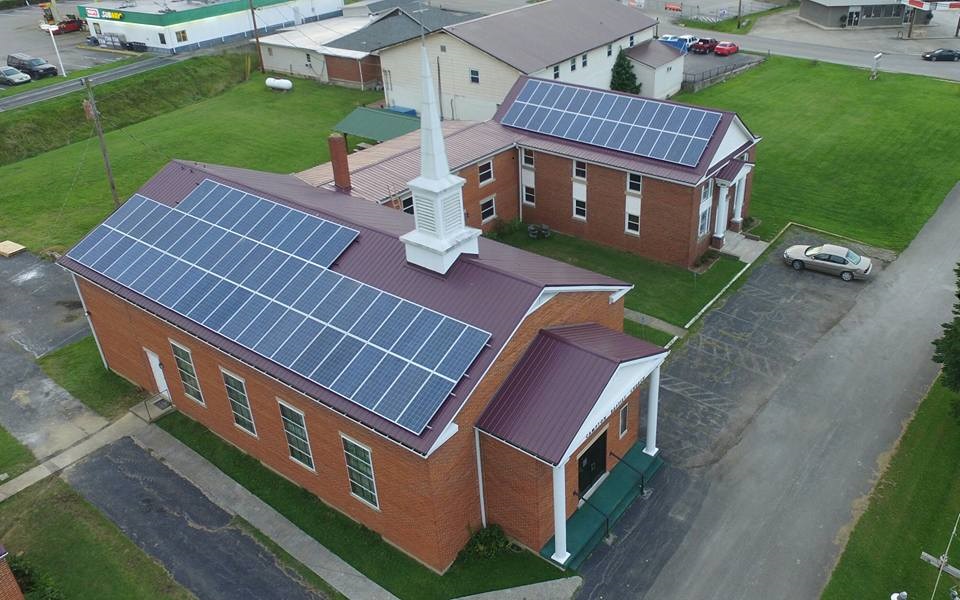 It's a stunning sight for the small town of Campton, whose economy was once based entirely on the black mineral pulled out of the Appalachian soil.
A SonLight Power team, joined by local volunteers, installed the 22-kilowatt system on Campton Baptist Church over five days in August, thanks to the generosity of long-time supporter Gary Booth.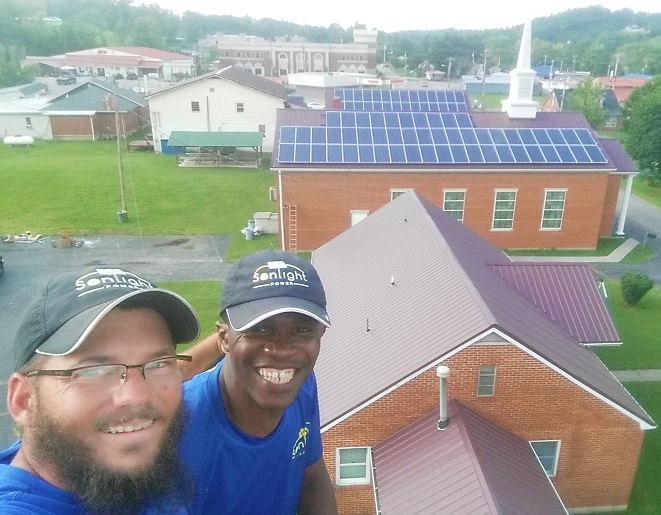 Gary grew up in Campton, which is a little more than a two-hour drive southeast from Cincinnati. Now retired, Gary was a highly-successful Procter & Gamble executive who celebrates his love of Jesus by regularly giving back to the community. The solar installation at Campton Baptist Church, where Gary met Jesus as a young boy, was his idea.
"When people think of SonLight Power, they often think of our mission activity overseas. But there's a need for our mission in this country as well," Kevin Sasson, SonLight Power's executive director said.
"We're honored to bring Gary's generous gift to life for the people of Campton," Kevin continued. "We're also excited about the enormous partnership potential of this project. Partnering with the community on future mission projects and area schools on the advancement of STEM [science, technology, engineering, math] education will multiply the impact of the solar power system we just installed together."
The original Campton Baptist Church building is 121 years old, but through the years, the church facility added two wings on whose roofs the solar panels were mounted. Energy generated from the solar panels will provide all the power needs of the church, saving $120,000 in electricity costs over the next 40 years. Excess electricity produced by the panels will be sold back into the grid.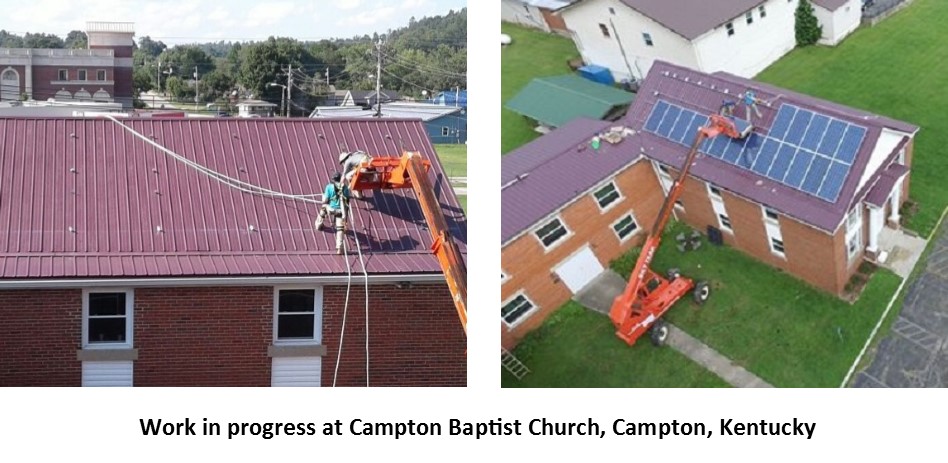 Deacon Zach Collier was thrilled about the installation, noting "generations of families here at Campton Baptist will have zero carbon footprint."
Collier is also a science and aeronautics teacher at the nearby Wolfe County High School and sees the installation as both an excellent learning tool and an inspiration for his students.
Pastor Gary Connor called the solar panels an investment in the community. "We are trying to harness the power from the sun that God has already given us and to use that wisely, and perhaps it would be something that out of curiosity people would come and check out," he explained.
Connor and Collier said they aren't finished with their goal of making Campton Baptist a model of conservation. They have plans to install a geothermal heating and air conditioning system on the church property as well.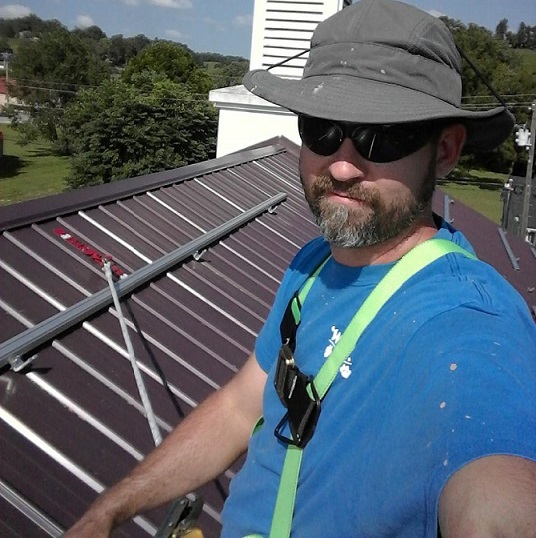 SonLight Power volunteers were joined by members of the church community and were given access to a bucket truck supplied by the Licking Valley Energy Cooperative, the local electric provider.
"It was awesome to see the people of Campton come together on this project," Kevin said. "Contributions from community members were vital. Our team was nourished with home-cooked meals and warm hospitality. And the trucks supplied by Licking Valley EC allowed us to work efficiently and safely on the rooftops."
And as someone who supports SonLight Power through prayer, financial giving or as a volunteer, you're an essential part of our team as well. Thanks to your support, children and their families living in energy poverty have hope for a brighter future, both inside and outside the United States.
---
Related Links:
WKYT (Lexington, KY) featured this story on their August 13, 2017 newscast – see video: http://www.wkyt.com/content/news/Wolfe-County-church-installs-solar-power-system--440181213.html
University of Dayton news release from August 17, 2017 entitled, emPOWERed, features Haitian Fulbright Scholar and SonLight Power intern, François Vibert, an essential member of the Campton installation team. Also see THE FUTURE IS [FUL]BRIGHT
Inspired by Gary Booth? Want to sponsor a solar project that will empower children and their families for generations? Visit our Sponsor A Project page, then call us at 513-285-9960 Ext. 0