March 9, 2021 / SonLight Power SpotLight on Steve Melink
---

"I decided years ago to focus our philanthropic efforts toward those that further support our own mission, which is to help mainstream clean energy. If there's one organization in Cincinnati that does that, it's SonLight Power."
- Steve Melink, Founder & Chairman of Melink Corporation
---
SonLight Power represents a beacon of hope for so many living in energy poverty, thanks to God's provision and faithful support from friends like you.
We're privileged to call Steve Melink one of our long-time friends and ambassadors. Recently, we had a chance to catch-up with Steve to reflect on his career and business, his vision for the future, and why he invests in SonLight Power.
Background on Steve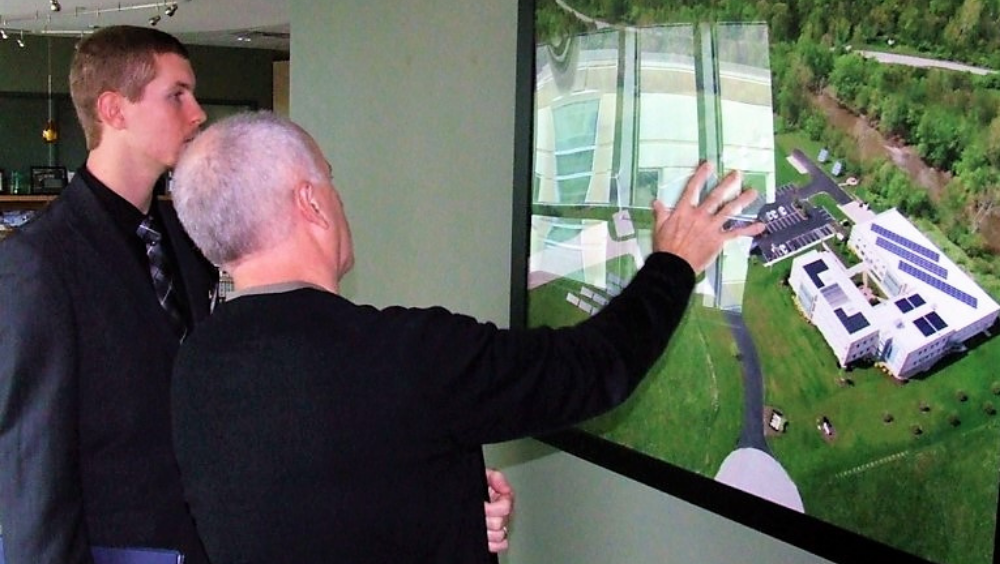 Steve is the founder and chairman of Melink Corporation, an employee-owned company based in Greater Cincinnati, providing energy efficiency and renewable energy solutions around the world for notable corporate customers such as P&G, Apple, U.S. Army and Google, among others. Driven to transform and improve our global economy and environment, Steve and Melink Corp work with decision-makers to embrace energy efficiency and implement renewable energy solutions in their buildings.
Steve is a respected leader in the fields of clean energy and sustainability, with a track record of entrepreneurship and innovation spanning 30+ years. Like SonLight Power, Steve constantly seeks to improve the world in lasting ways. His clean energy expertise and spirit of giving have strengthened our mission to equip vulnerable communities with the power of the Son and the sun.
---

"Our relationship with Steve and Melink Corp is one we hope will inspire other like-minded business leaders and their organizations. We hope others will see this and want to join in."

- Kevin Sasson, SonLight Power Executive Director

---
As an industry thought leader, Steve has published two books within the last six years that are integral to the clean energy revolution taking place: CEO Power & Light, which inspires executives to embrace sustainability, and Fusion Capitalism: A Clean Energy Vision for Conservatives, which makes a case for harnessing the power of entrepreneurism and capitalism in the fight against climate change.
Mutual Interest in Clean Energy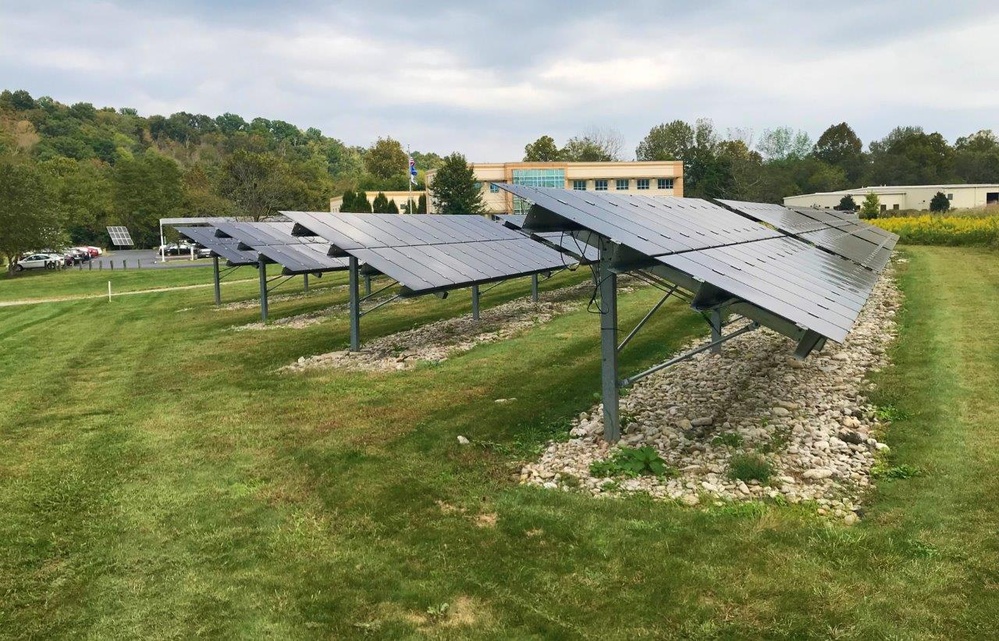 Steve's values are closely aligned with the way SonLight Power meets the need for solar power in places without access to basic electricity.
"I think in the long term and the macro view, and I'm concerned about climate change. I think clean energy solutions like solar power and wind power — we need much more of that today," he says. "I'm doing everything I can to excite the building industry and the business community that this is the way of the future."
SonLight Power executive director Kevin Sasson is inspired by Melink's life and work, calling his story one of grit, perseverance, achievement, selflessness, sacrifice, and vision.
"It means so much to have Steve as one of our leading ambassadors," says Kevin. "His voice adds so much credibility to any conversation about the SonLight Power mission because he has walked the talk throughout his career."
About a decade ago, Kevin and Steve crossed paths through their mutual work in clean energy. At that time, Steve was in the process of taking the first Melink Corp headquarters from "very green" to "super green." A key facet of that transition was the installation of a solar PV system, which drew the fascination of many like-minded business leaders and professionals — including Kevin. He attended the Melink HQ1 open house and made an introduction.
"Steve is a determined entrepreneur who started a business from his own basement, to now operating from two of the greenest buildings in the world as a global provider and innovator of energy efficient and renewable energy solutions," Kevin explains. "He strives to make the world a better place than he found it. He inspires us, and has inspired me, to set higher standards — for our lives and our mission."
Kevin invited Steve to serve as the keynote speaker for a large SonLight Power event in 2013. That speaking engagement led to ongoing conversations of how Melink Corp and SonLight Power could each mutually benefit the other. Whereas Melink Corp serves the needs of commercial businesses, SonLight Power meets the needs of underserved communities.
Steve emphasizes that Melink Corp customers need solar power to responsibly do business in the long term, but the people who SonLight Power serves have an immediate need for solar power for essentials like electric lighting, refrigeration and running water.
---

"I think there's a powerful complement to what we're doing and what SonLight Power is doing to bring the human family to a cleaner and brighter future."

- Steve Melink

---
"We're both approaching the same economic-social ladder from opposite ends, in a way. We can no longer be as dependent on fossil fuels as we have in the past," Steve says, explaining that relying on coal or burning diesel and wood for generating electricity isn't environmentally sound – those methods aren't safe for people in underserved communities either. "I think there's a powerful complement to what we're doing and what SonLight Power is doing to bring the human family to a cleaner and brighter future."
Modeling How Businesses and Nonprofits Can Accelerate Impact Together
Thanks to Steve's influence, Melink Corp has been a valued SonLight Power partner in several ways. Steve himself has been a longtime advocate for our work within his professional network. He and Melink Corp have provided both financial and in-kind support to SonLight Power to make more life-changing projects possible. They have donated surplus solar power equipment, including a complete 25-kilowatt solar PV system we recently repurposed together at New Prospect Baptist Church in the Cincinnati community of Roselawn.
"I give to SonLight Power because I believe in their mission. Their mission is so aligned with ours, and I also believe in the people serving that mission," Steve says.
In 2019, Melink Corp finished construction on their second headquarters building and provided office space in-kind for SonLight Power, giving us invaluable proximity to the company's thought leadership and influence.
"For over a decade, Steve and Melink Corp have come alongside our mission to eliminate energy poverty through sustainable, clean energy solutions," Kevin says. "So far, an estimated 350,000 lives have been impacted in lasting ways thanks in large part to our partnership. That's a number Steve and Melink Corp can be proud of, and we hope others will see this and want to join in."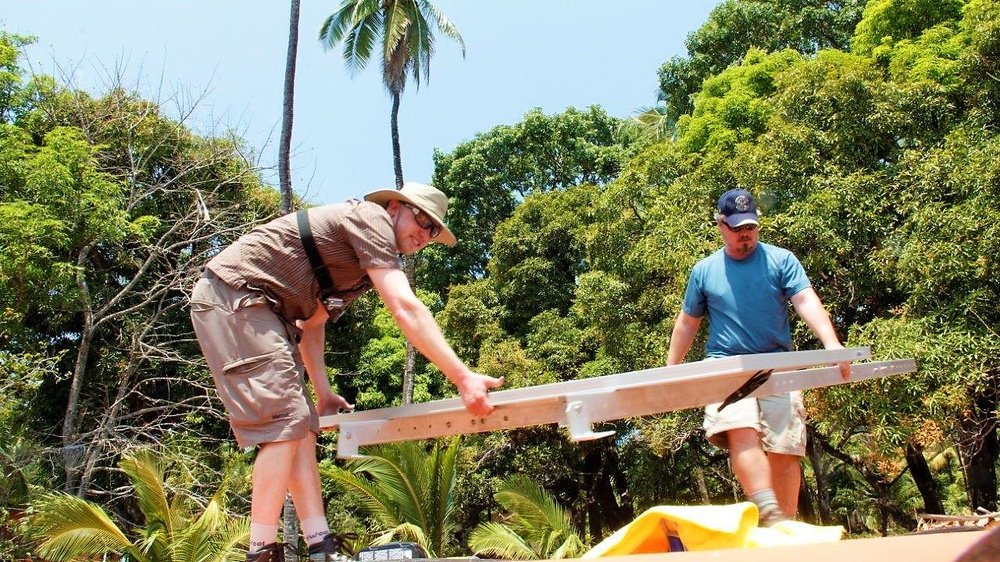 As evidence to the "walk the talk" culture at Melink Corp, the company encourages employee-owners to get involved with SonLight Power mission projects that equip those in need with solar energy. Melink Corp employee-owners have teamed up with SonLight Power in projects both near and far.
"For me, it's good to see that our employees are aligned with our mission, and that it's just not in helping our customers realize the benefits of solar PV but on the opposite end of the economic-social ladder, where people really need that benefit even more," says Steve, adding that giving back is integral to his company's culture. "The more we can give back in a way that's consistent with what our mission is, the more powerful it is."
Partnership for a Better World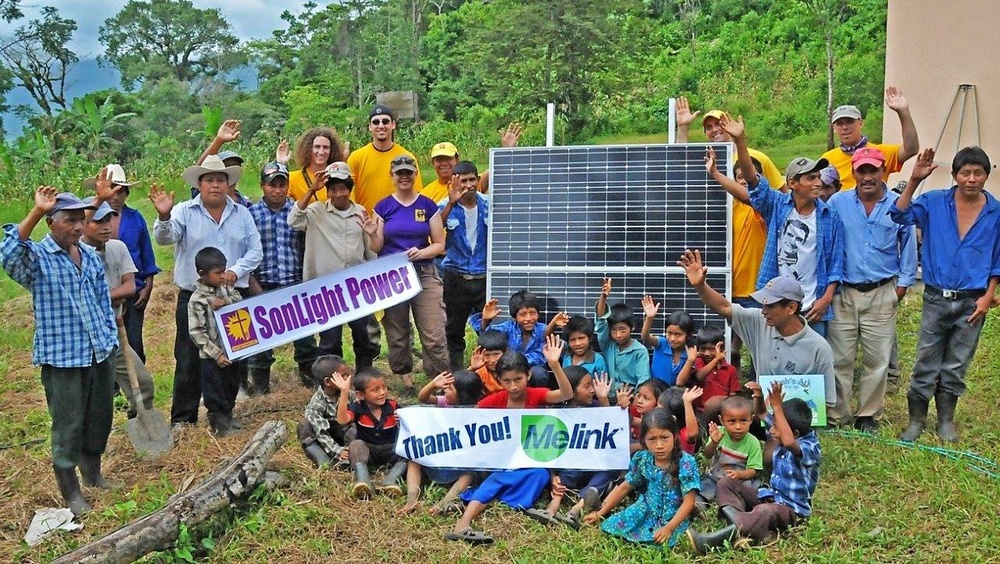 For Steve, supporting SonLight Power means more than providing resources and knowledge. The organic alignment of missions contributes to an essential, clean energy revolution that will transform the environment, the global economy, and the lives of families and communities. In the wake of such recent, significant events like the COVID-19 pandemic, the economic recession and devastating weather events, there exists an opportunity to come together to improve lives at home and abroad.
"Our country and our world could use some positive information and give us some reason to be excited about the future, and I think clean energy is one of those things that we can all rally around," says Steve. "This is something that will make our future safer and healthier, and it will protect our environment and our planet from the worst ravages of climate change. So, let's work together to make our world better than it was for us, for the good of our children and future generations."
At SonLight Power, we believe we can do exactly that through the power of God's light. But we know that we cannot do it alone.
"Our relationship with Steve and Melink Corp is one we hope will inspire other like-minded business leaders and their organizations," Kevin says. "Energy poverty affects 1.4 billion people worldwide — it's a problem SonLight Power is unable to solve on our own. We need more partners like Steve and Melink Corp if we're going to make a significant difference against that number."
Thanks to Steve Melink and the employee-owners at Melink Corporation, SonLight Power can reach far more people in lasting ways with the power of the Son and the sun.
---
Did Steve's story inspire you and your organization? Click here to connect with us to explore partnership opportunities with SonLight Power.
For more information: Video: SonLight Power & Melink use solar power to connect and equip community