April 28, 2017 / Solar School / Source: John Stowell
SonLight Power Solar School applies 15 years of trusted expertise to equip and inspire
Did you know you are teaching people around the world how to use solar power to share God's love?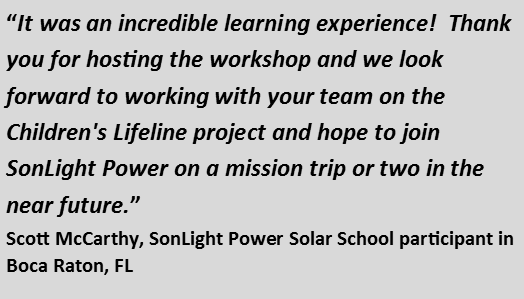 SonLight Power's newest Solar School training facility is up and running, officially commissioned and providing clean power to our partners at the Civic Garden Center of Greater Cincinnati. The new solar center is located minutes from downtown Cincinnati and deepens our commitment to expand and diversify our training opportunities for Christian missions serving worldwide.
The Solar School strategy also includes shared facilities with mission partners in Florida, Haiti and, in the future, Arizona. Executive Director Kevin Sasson described the strategy as a way to broaden SonLight Power's impact by "segmenting our training and making it more accessible."
"Before, we mainly focused on training groups going on specific missions," Kevin explained. "So, we'd host a group at Camp Amakanata in rural Indiana and teach them how to install a pole-mounted solar array for a remote school in Honduras or a roof-mounted array for someplace else – all specific to where they were going. Without a climate-controlled venue, our workshops were limited to the warmer months of the year."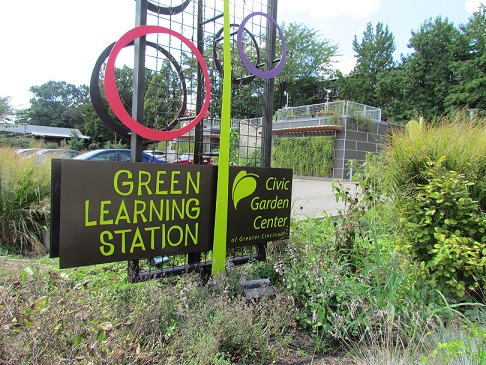 Relocating the SonLight Power Solar School from Camp Amakanata in southeastern Indiana to Cincinnati presents many more options.
"Now, in addition to what we've been doing, we can show the Greater Cincinnati community how our mission aligns well with the STEM (science, technology, engineering and math) curriculum in local high schools and colleges," Kevin said.
The Green Learning Station on the Civic Garden Center campus is a natural fit as a Solar School venue. The Green Learning Station is a place for people to get outside, play around with science and sustainability concepts and take new ideas home to try.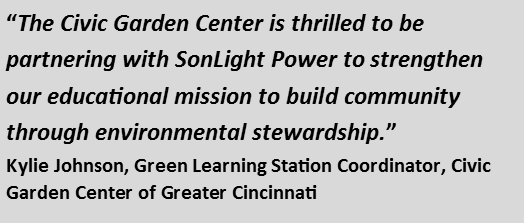 The Civic Garden Center already offers a range of classes, tours and workshops for all ages at the Green Learning Station. Thanks to nearly 4 kilowatts of electricity generated by the SonLight Power Solar School system, the Green Learning Station can add solar power to its list of workshops too.
"We have a great partner in the Civic Garden Center who utilizes the clean energy our solar array provides on-site and we have a lot more room for our training workshops. What's more, we can host our workshops year-round," Kevin noted.
Kylie Johnson, Green Learning Station Coordinator, also recognizes the potential in the new partnership.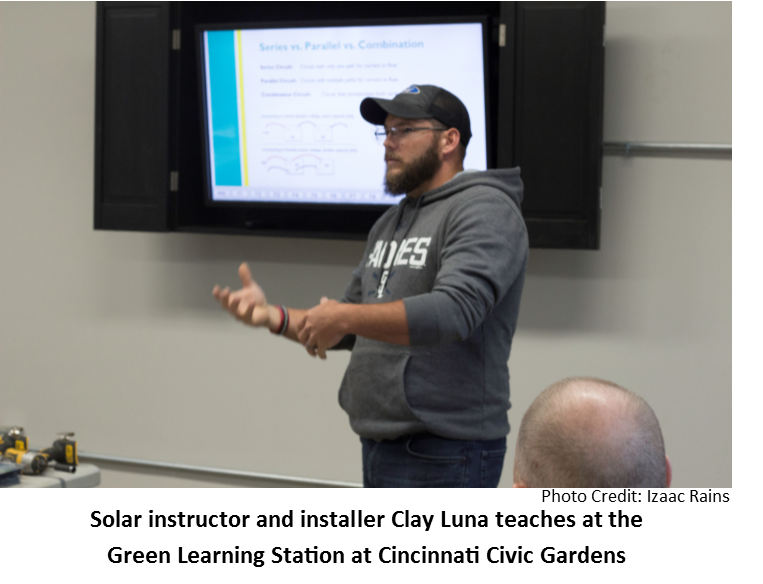 "The Civic Garden Center is thrilled to be partnering with SonLight Power to strengthen our educational mission to build community through environmental stewardship," said Kylie. "Hosting SonLight Power training workshops at the Green Learning Station will be mutually beneficial, as it will allow both organizations to reach a larger audience of students, homeowners and professionals."
SonLight Power's new school has already hosted a career camp for Princeton High School students and a group of teenage girls in Cincinnati's Green Girls in STEM collaborative.
"Green Girls in STEM was an invaluable opportunity for these young women interested in careers in science, technology, engineering and math to gain hands-on experience using power tools and learning the science behind solar," said Kylie.
In February, the Solar School served as the training venue for a mission team bound for Haiti. Kevin also sees the new school as a place where curiosity-seekers can learn about solar power concepts during the many community events that take place regularly at the Civic Garden Center.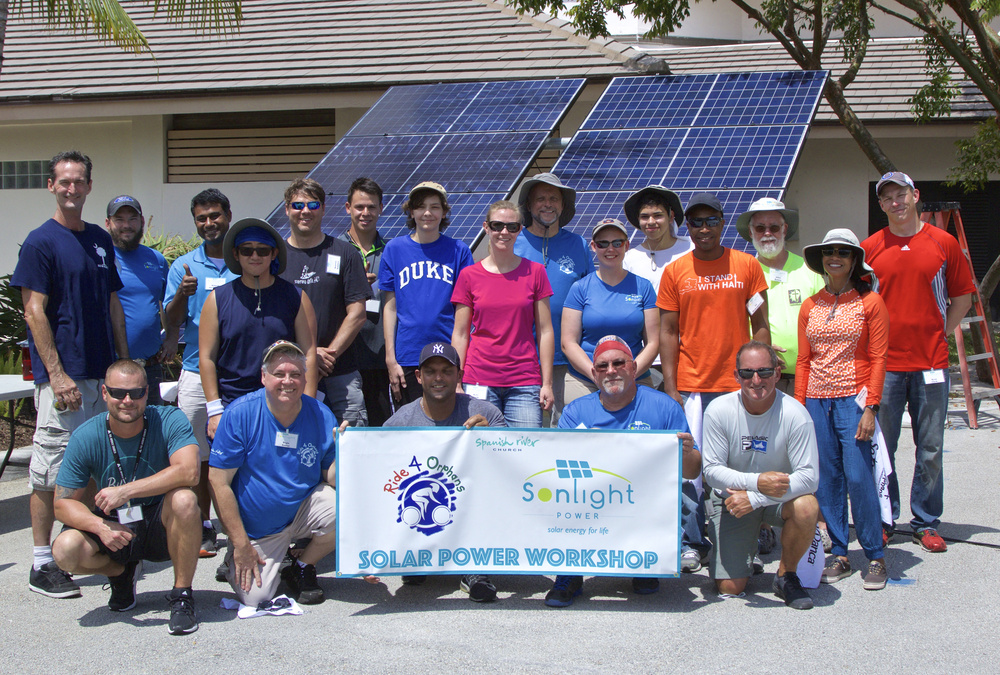 The SonLight Power Solar School in Boca Raton, Florida is an important element of the long-time partnership with Spanish River Church. Under the able leadership of Spanish River's mission coordinator, Craig Kindell, the school has already hosted training sessions for several mission teams.
In Haiti, SonLight Power is working with Matthew 25: Ministries on a solar school concept connected with the Bel Fle Missions Hotel near Port-au-Prince. Bel Fle is operated by Matthew 25: Ministries and serves as a residence for short and long-term missionaries while providing employment and skill development for Haitian workers.
The preliminary plan calls for SonLight Power to install solar power at the hotel and dedicate some of the space for a demonstration facility and solar school.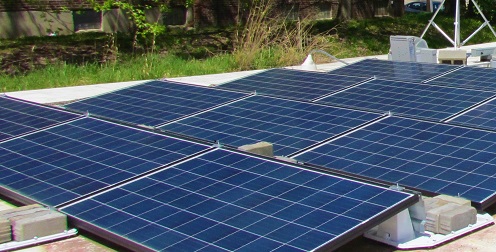 The demand for solar power is growing rapidly in Haiti. Mission and relief organizations view solar as a sustainable solution to provide much-needed electricity while combating the recurring costs of running generators, diesel fuel expenses and an unreliable electric grid.
"It's an opportunity for us to interact with missionaries and raise awareness of how we can help them equip their mission facilities with solar power," Kevin explained. "Having a demo and training facility right there on the ground in Haiti also gives us a chance to train Haitians on how to install and maintain solar power systems – fostering job skills to meet the growing demand for solar power in Haiti."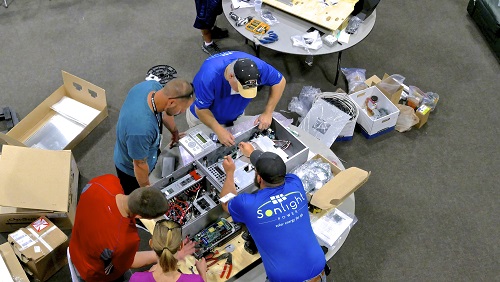 The fourth piece of the Solar School footprint can be found in the Arizona desert – where the sun almost always shines. SonLight Power has been working to establish a new partnership with Grand Canyon University, a faith-based institution of 17,000 on-campus students in Phoenix and thousands more online that recently opened a school of engineering.
"We're on the ground level of an exciting new partnership," Kevin said. "Grand Canyon University has been growing by leaps and bounds thanks to its innovative approach and its Christian foundation. A Solar School partnership with GCU is important to SonLight Power's future – we hope it will help us attract the next generation of solar installers with motivation to use their talents to share God's love."
These are exciting times for SonLight Power supporters like you.
"God is opening doors and we're walking through them. We're taking the knowledge, expertise and trust we've built over fifteen years in solar-powered ministry to train and inspire the next generation of Christian leaders," Kevin said.