April 13, 2021 / Saving Precious Lives and Resources
---
"Not only are we saving in expenses on fuel, solar allows us to hire more individuals at the hospital or purchase medication, oxygen, equipment."
- Megan Schreiber, U.S. Director of Haitian Christian Outreach, in response to the estimated $100,000 in first-year savings alone on the SonLight Power-installed microgrid
---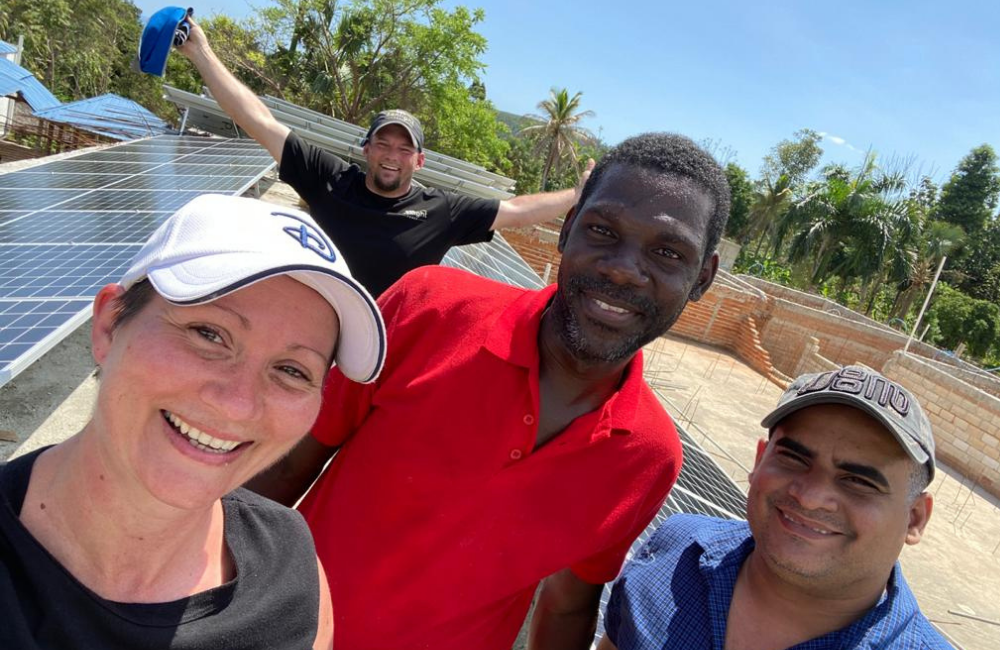 SonLight Power has partnered with Haitian Christian Outreach (HCO) on a transformational solar project that will inevitably save precious lives…and resources.
HCO helps run Peredo Community Hospital in southern Haiti. In March, a mission team led by SonLight Power Director of Programs, Clay Luna, and HCO U.S. Director, Megan Schreiber, upgraded the hospital's inconsistent power supply with a reliable solar microgrid.
"When we talk about how the SonLight Power mission transforms and even saves lives, it's not hyperbole – this project is a perfect example," says SonLight Power Executive Director, Kevin Sasson.
Healthcare remains a considerable challenge for most Haitians. The statistics are alarming. It is estimated that one out of eight Haitian children die from preventable diseases, and 60 percent of Haitians lack access to basic healthcare.
The Peredo Community Hospital serves a population of nearly a half million people, and on average, the hospital receives about 10,000 patients per year. A team of 40 medical professionals provides care through emergency services, pediatrics, surgery, OB/GYN, labor/delivery, radiology, dental and other critical medical services.
---
"It would be one thing if SonLight Power just came in and did it and left, but being able to be part of that, being able to see them work and to be guided by that type of leadership, I felt very honored to be so heavily involved in it."
- Megan Schrieber, HCO
---
Prior to the solar microgrid, one of the major headwinds facing hospital administrators was a short supply of reliable electricity for essential services. HCO, which supports the hospital through mission work and fundraising, relied on a diesel generator to power the building.
"It's a large generator, but it's a very unreliable source of energy. There's no electric grid that extends to Peredo, no public grid," Megan says. "There are no power lines. There's no energy company in that area. The generator takes about $1,400 to $1,500 a week in diesel."
The generator also led to disruptive noises and interruptions in power. Such unreliable sources of electricity could be catastrophic for patient care.
"The hospital doesn't have access to the power grid, and even if it did, the power grid in Haiti is just not sufficient enough to operate on somebody for a full hour or two and have that go smoothly," says Clay.
The importance of the hospital to the surrounding communities is clear. More than 420 babies were delivered and an average of 850 patient visits per month occurred there in 2020. And over the past two years, nearly 500 surgeries were performed at the hospital.
"For that generator to go down, we were stuck," Megan says. "Our old generator did go down, and unfortunately, we had to scramble to find another one so that we could keep the hospital up and running."
Solar Power Can Save Missions Too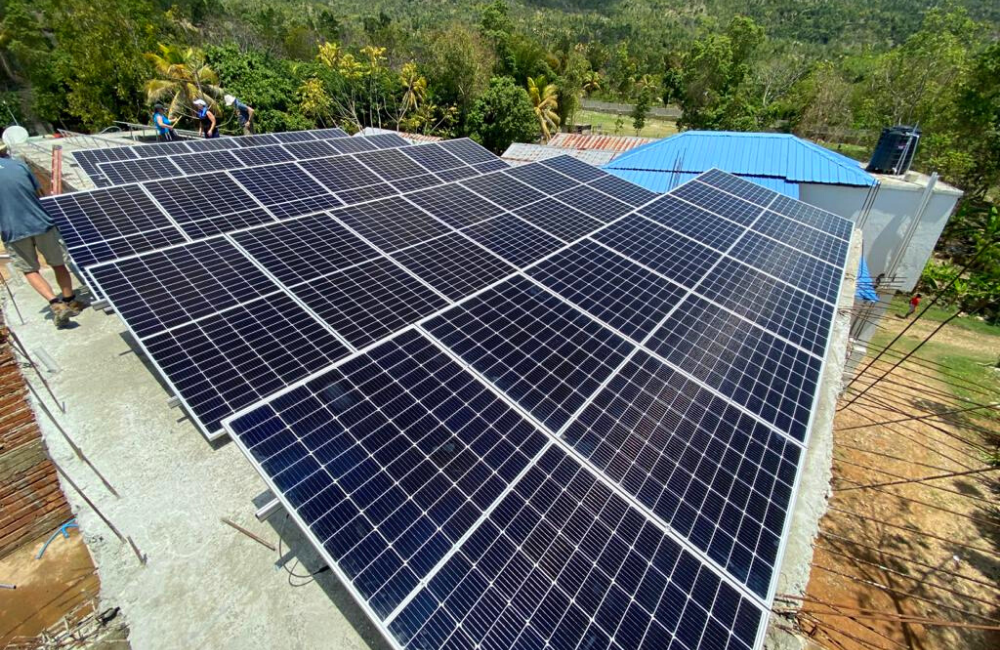 In response to the dire need for reliable electricity, HCO reached out to SonLight Power to design and install a solar microgrid for the hospital. The microgrid system includes 60 solar panels and lithium battery bank, which allows the hospital to produce its own energy without depending on a power grid.
The generator is still available as a backup power source for the hospital, but the solar microgrid and battery bank provide clean, sufficient power for the hospital and surrounding campus.
What's more, the project represents a compelling return on investment. In the first year alone, it has been calculated that switching from the diesel generator to solar power will save more than $100,000 – a substantial return for a mission organization trying to steward limited resources.
"We're very grateful that we now have the solar as a more reliable resource and then have the generator as a backup," Megan says. "So, not only are we saving in expenses on fuel, solar allows us to either hire more individuals at the hospital or purchase medication, oxygen, equipment — things like that. It's a huge benefit in all sorts of realms."
---
"Having that reliable energy there with the solar is peace of mind."
- Megan Schrieber, HCO
---
Reducing expenses at the hospital is more urgent than ever. The Haitian currency has depreciated by nearly 50 percent in recent months, which has severely impacted effective mission organizations like HCO.
"How do we continue to pay staff?" asks Megan. "How do we continue to purchase needed medication and oxygen? How do we continue to purchase that fuel?"
As if the realities of COVID-19 weren't challenging enough, Peredo Community Hospital also faces the ongoing recurrence of a nationwide fuel shortage.
According to Human Rights Watch: "In July 2018, the [Haitian] government's announcement that it would eliminate subsidies, allowing fuel prices to increase by up to 50 percent, led to widespread protests and the worst civil unrest the country has seen in years." Public demonstrations, political instability and social unrest soon followed. These events continue to hit Peredo hard.
"Any time there's social unrest, we see roadblocks," Megan says. "There are times the roadblocks can prevent gas from getting to the southeast, and therefore we run into a gas shortage. Or there are times when you can see tankers out on the horizon but they're not coming to shore, and the entire country has gone into a gas shortage. So, having that reliable energy there with the solar is peace of mind."
God's Timing Is Worth the Wait
The solar microgrid was intended to be installed in April 2020. Clay had even visited the HCO campus in February of that year, but the onset of the COVID-19 pandemic kept the project from advancing.
"We were so ready for it, and there was such a buildup to it and an excitement about it coming, that when I had to tell the hospital and the mission that, unfortunately, we were not going to be able to install it this year…it was heartbreaking," Megan recalls. "But at the same time, I think that it did give us an opportunity to understand that God's timing is always perfect."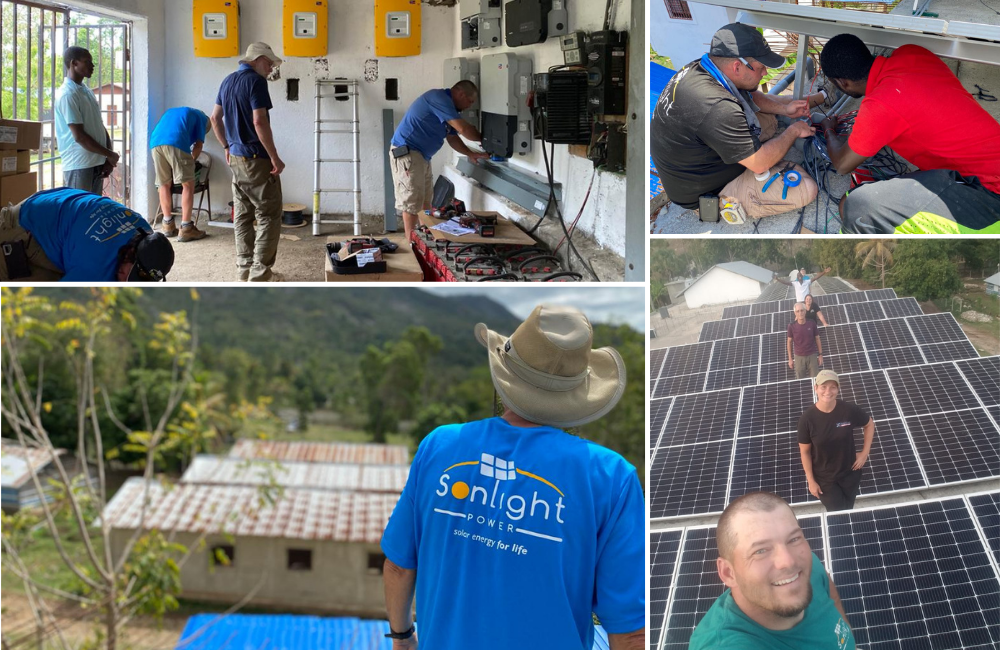 After nearly a year of waiting for travel restrictions to subside, the microgrid was installed by a team comprised of Clay, Megan, volunteers from both SonLight Power and HCO, and HCO co-founders, Pastor RoRo and Eline Eustache. The installation represents the first phase of a multi-phase project to continually build resiliency into the microgrid.
Megan admits that prior to the trip, she knew little about solar power. But Clay's knack for using project tasks as teachable moments changed that.
---
"We are not meant to do life alone…It was a great partnership in ministry and in mission."
- Megan Schreiber, HCO
---
"Clay's leadership ability and his passion and knowledge for solar are overwhelmingly abundant. I told him, at one point, I said, 'I appreciate the fact that you are so willing to teach, allowing me to be hands-on with this,' because it gives me the opportunity to come back with a personal experience to talk with our donors and partners about," Megan says, adding that she can better troubleshoot issues and concerns that may arise in the future.
"It would be one thing if SonLight Power just came in and did it and left, but being able to be part of that, being able to see them work and to be guided by that type of leadership, I felt very honored to be so heavily involved in it," says Megan.
"We love that the SonLight Power mission plays so well with others," says Kevin. "In the spirit of Ephesians 4:12, we're privileged to equip our mission partners at HCO, the hospital's talented medical staff, and surrounding communities with hope and solar power."
Megan calls the relationship between HCO and SonLight Power a great partnership of ministry and of mission.
"God tells us, or God shows us that we are not meant to do life alone, and so I appreciate the fact that we can recognize when somebody is doing something well, or an organization is doing something well and it prevents us from having to recreate the wheel," says Megan. "It was a great partnership in ministry and in mission."
---
How can our mission help yours? Are you part of a mission organization, school or church wondering how a combination of love and solar power can transform your mission?
Click here to visit the Equip Your Mission page on the SonLight Power website to learn more.
For more information: Equipping a Haiti Medical Mission with Life-Saving Power