July 20, 2021 / SonLight Power Mission Trips
---
"If we can plant that seed of joy and love from Christ that we're sharing, maybe they'll take that somewhere and they'll use that same love…that they can build on and that they'll remember forever."

- Debbie Allbright, SonLight Power volunteer and team leader
---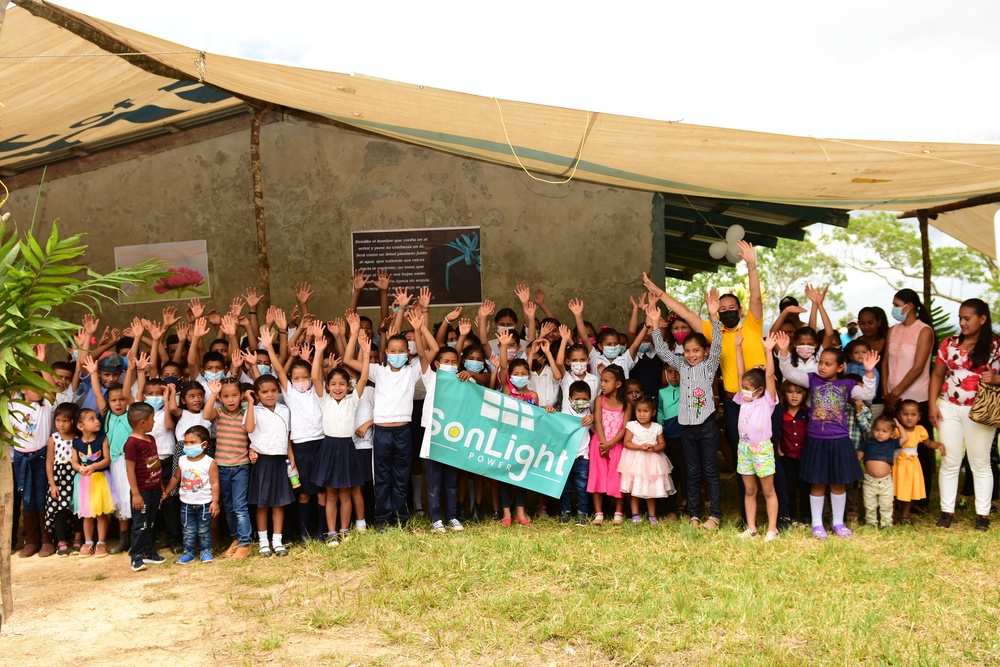 How do you celebrate 20 years of solar-powered mission trips? With a mission trip, of course.
June marked the 20th anniversary of SonLight Power's first mission trip to Honduras. Fittingly, a SonLight Power mission team was serving in Honduras to commemorate the milestone.
Since 2001 when SonLight Power founder, Allen Rainey, and a team of SonLight Power volunteers from College Hill Presbyterian Church in Cincinnati, Ohio, equipped a remote medical clinic with solar power in the mountains of Intibucá, Honduras, the Central American country has remained an important mission field.
In economic terms, the need in Honduras is well-documented. Despite some momentum in recent years, the country has long faced high levels of poverty and inequality.
According to World Bank estimates, even before factoring the double impact of the COVID-19 pandemic and hurricanes Eta and Iota last year, almost half of the population – nearly 5 million people – lived on less than $6 per day in 2019. That's the second highest poverty rate in Latin America after Haiti.
For two decades now, SonLight Power has been using solar power to share God's love with Honduran communities in need – not just economically, but spiritually. Our mission trip last month to the Honduran department of Olancho was no exception.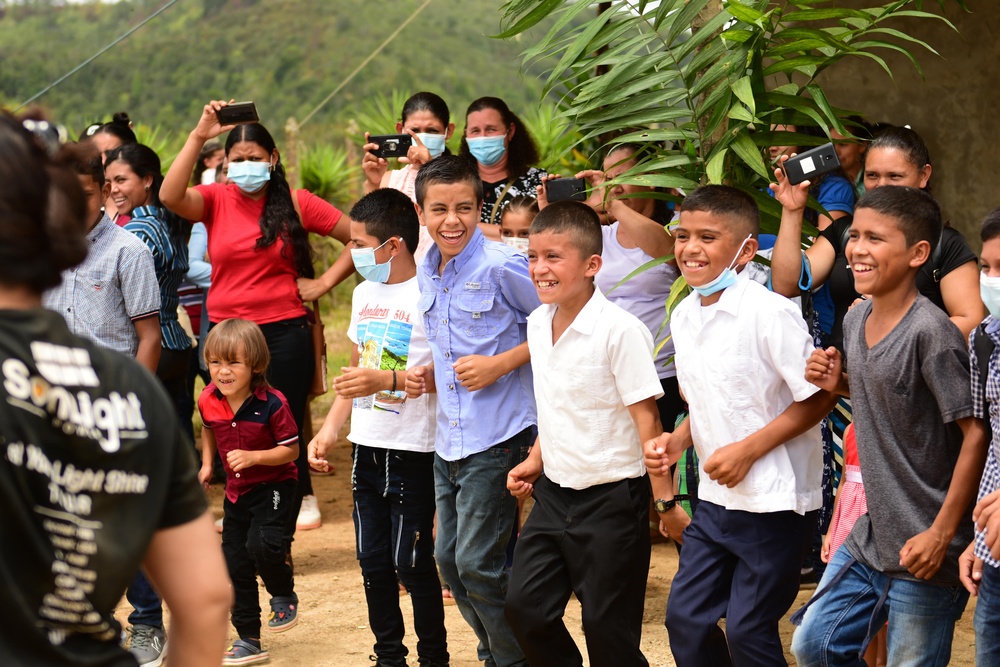 Sara Reyes serves in Honduras as the logistical coordinator for SonLight Power mission trips as part of her role at Vida Abundante church in the Honduran capital of Tegucigalpa. Sara and Vida Abundante are virtual extensions of the SonLight Power mission in Honduras.
In rural Honduras where most SonLight Power teams serve, there is great need for even the most basic supplies. Although the land is fertile and ideal for agronomy, small mountainous communities lack access to energy, education and clean, safe drinking water.
"Most of these communities are neglected by our authorities and sometimes even forgotten by the church in our country," says Sara.
"The feeling you get when you complete a solar installation on a SonLight Power mission trip is unique and makes you commit long-term to serving," continues Sara, adding the mission effectively aligns solar power with the gospel to transform lives in her country. "That kind of impact can save the life of a person without hope, or the life of a teenager in desperation."
Shining Light in Dark Classrooms Along the Road Less Traveled
Despite recent growth in the number of small businesses, the municipality of Juticalpa, Olancho, has faced challenges. On a micro-level, a combination of rising energy and rental costs for businesses have deeply impacted the local economy. Together with the distant locale of mountain communities outside of Juticalpa, the need for assistance and support is magnified.
---
"That kind of impact can save the life of a person without hope, or the life of a teenager in desperation."
- Sara Reyes, SonLight Power Programs Coordinator in Honduras, on the effect of SonLight Power mission trips in her country
---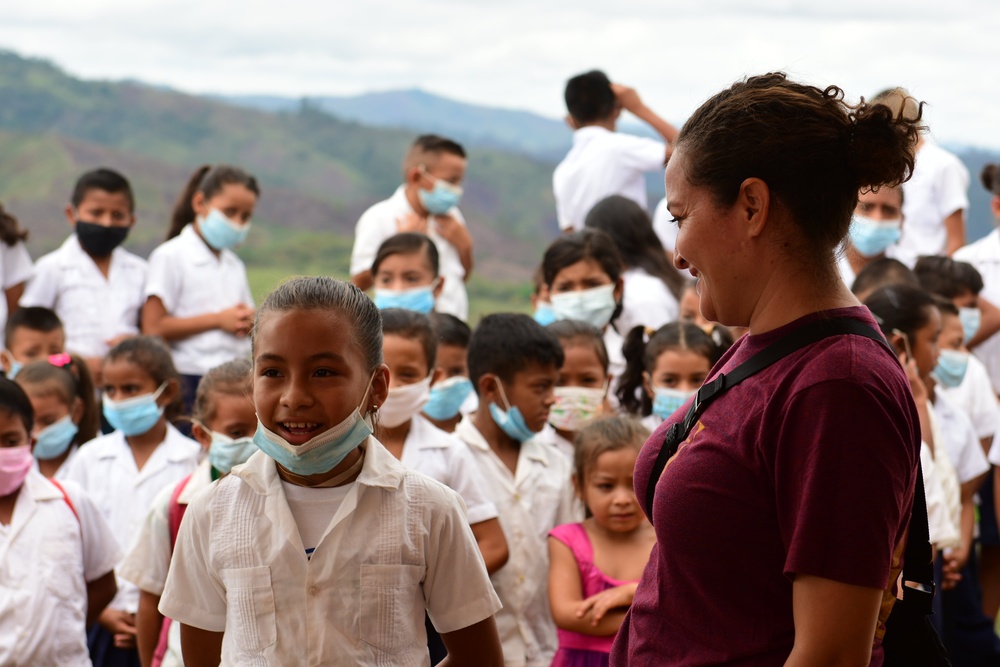 The U.S. contingent of the SonLight Power mission team landed in Tegucigalpa on June 12 and stationed their lodging in Juticalpa. Using a hotel in Juticalpa as a base for the week, they traveled two hours or more each way on pickup trucks through rugged, mountainous terrain to reach their installation sites – three remote schools without access to basic electricity.
Participating on her first SonLight Power mission trip in Honduras was Jill Council, Executive Assistant at SonLight Power. The daily journeys to the schools will not soon be forgotten.
"We're driving in the back of pickup trucks over literally dirt roads with potholes and divots and left-and-right turns that throw you off course pretty quickly," recalls Jill. "So, it was tough terrain just to get there. It was all up into the mountains, so it was straight uphill the whole way."
These geographic obstacles make it difficult for the delivery of many resources, but Jill notes one construction material we often take for granted is next to impossible to transport: glass.
The absence of something as common as glass means the schools in these mountain communities don't have adequate windows to protect students and teachers from the natural elements, adversely impacting the quality of education they receive and provide.
"If you can imagine driving uphill on that kind of rugged terrain with glass in the back of a truck, it would shatter instantly. So, they have grates over the windows at the schools to protect them from the dust, the rain, the wind, from anything blowing in the classroom," explains Jill.
"There's usually a large metal awning that extends out over the windows for added protection," Jill continues. "But what that does in a community where there's constant sunlight, it makes for a very dark classroom."
"The classrooms, and particularly the latrines and kitchen structures, can be very rudimentary and are not always built to allow in much natural light. So, they can be very dark during the day," explains Keith Brown, an experienced SonLight Power mission volunteer and spiritual care leader.
Each of the three schools impacted on the trip were equipped with two solar panels. The panels are mounted to the top of a tall metal pole securely planted in the ground and reinforced with a concrete base just outside each school. Wires connect the panels to the solar inverter and charge controller that are mounted on a wall inside the building. The solar power systems also include a lithium battery for energy storage and nighttime use.
---
"The high point of each visit is the moment we turn on the lights at the schools for the first time together with the kids and community. It provides the perfect opportunity to ask that they remember God's love and His light, every time they turn on those lights."
- Keith Brown, SonLight Power volunteer and spiritual care leader
---
While modest by U.S. standards, these pole-mounted solar power systems generate sufficient electricity for critical applications like lighting and multimedia learning tools that can transform the educational experience for immediate and lasting impact. The LED lights alone, which consume little electricity, make a huge difference for students and teachers.
"Those lights make all the rooms much more pleasant and useful during the day, and, for the first time, extend their use into the evenings for further educational and community gatherings," Keith explains.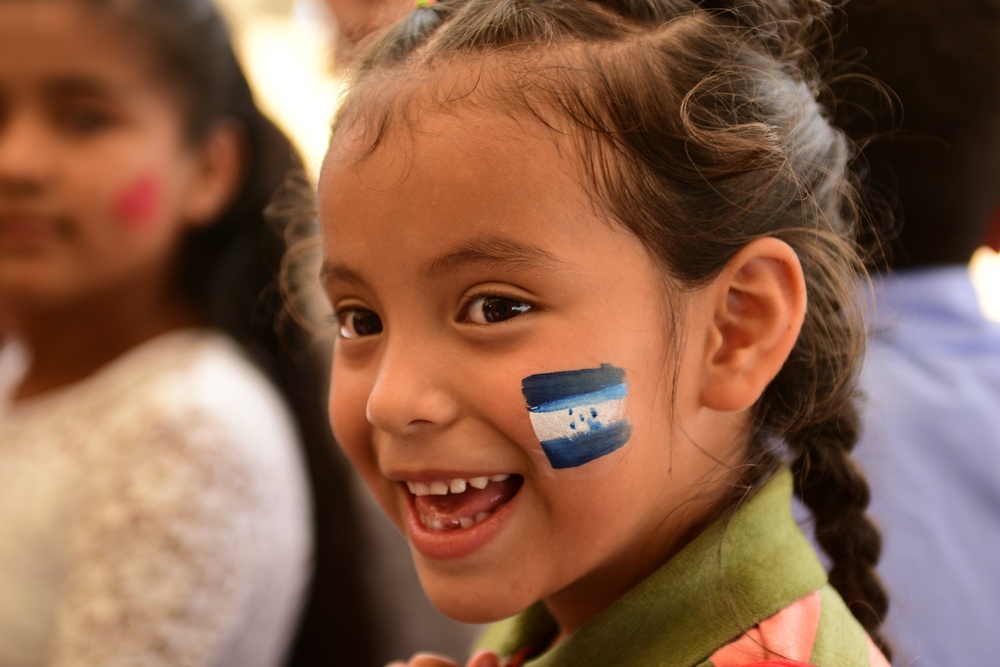 More Than Solar Power
Core aspects of our mission have remained the same over the past 20 years, including children's ministry. While part of the SonLight Power mission team was installing solar power and wiring the schools for lighting, other team members were engaged with the kids and families in each community, sharing the light of Jesus for Kingdom impact.
One such team member is Debbie Allbright, who attends Cobblestone Community Church in Oxford, Ohio. She has served on multiple SonLight Power mission trips in Honduras, most often as a children's ministry leader. In preparation for the June trip, her role expanded to oversight of travel logistics, volunteer preparation and fundraising efforts.
During the team recruitment process, Debbie explained to prospective volunteers that the goal of the trip is not just about equipping schools with energy from the sun, but equipping lives with the light of the Son, Jesus. Prior to the trip, she also worked with Jill to coordinate the transport of children's ministry supplies, books and Bible-centric DVDs.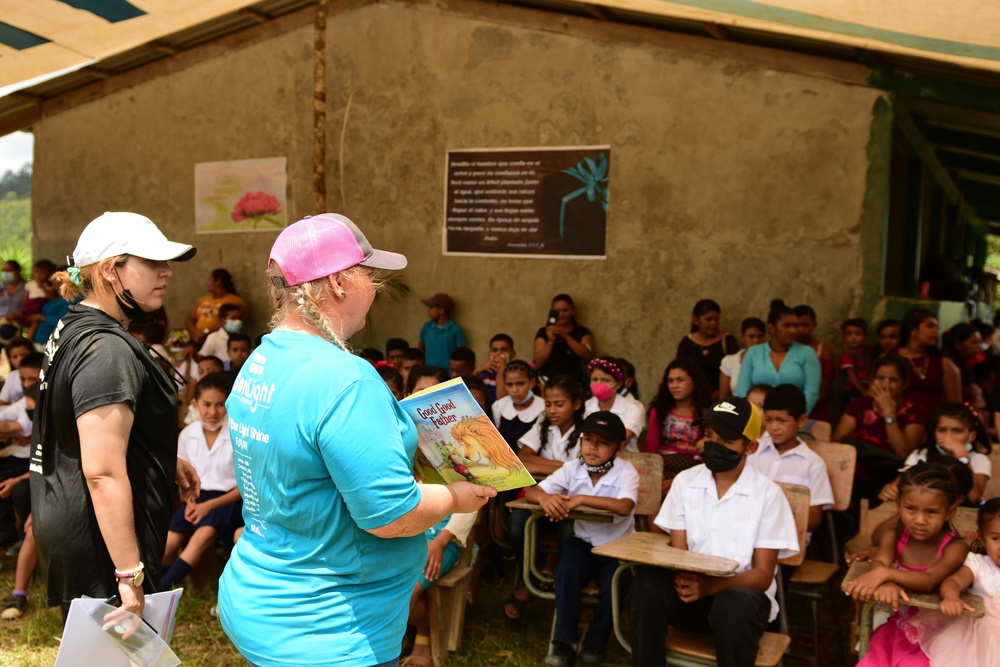 On the trip, Debbie used those same supplies as she led children's ministry activities for students on the grounds adjacent to the schools while the solar installations were taking place. These activities resemble the U.S. version of vacation Bible school.
Engaging in such a way with the kids and their families leaves a lasting impression in the hearts of the communities and SonLight Power teams alike.
"It takes on a whole level of satisfaction and humility at the same time," says Debbie. "You want to equip these families with something that's sustainable, that isn't about going, bringing them treats and leaving, and then they have nothing left after it's over."
"So, yes, we bring soccer balls that may not have a forever-life, but with those toys that we bring, we also hope it touches them that we spoke about Jesus at the same time," Debbie continues. "That they see the correlation between the light of Jesus and the light in their classrooms and that sustainable solar power is going to stay with them."
Keith echoes a similar sentiment that those familiar with SonLight Power have known for two decades: "The high point of each visit is the moment we turn on the lights at the schools for the first time together with the kids and community. It provides the perfect opportunity to ask that they remember God's love and His light, every time they turn on those lights."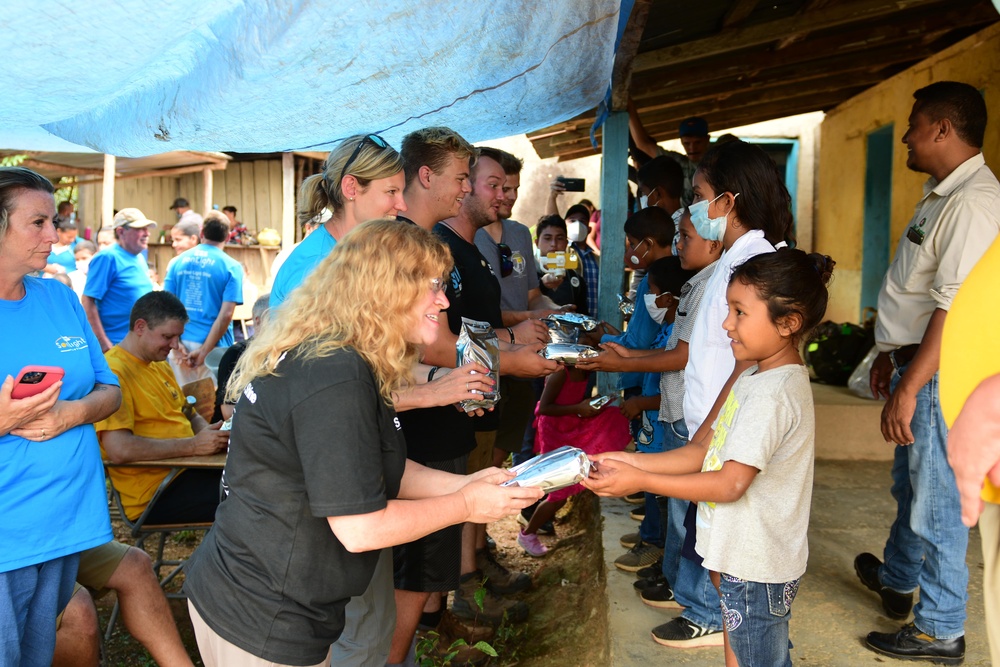 20 Years of God Sightings
The mission trip was originally scheduled for 2020 with a team to be comprised of members from longtime SonLight Power mission partners, Cobblestone Community Church in Ohio and Vida Abundante church in Honduras. But the trip was delayed due to the pandemic, which opened the door for a third partner.
"Some of the original team members had to back out for various reasons, for health concerns, family commitments and things that came up that they didn't anticipate a year and a half ago," says Jill. "The team was a little too small to travel, so we started to explore other options."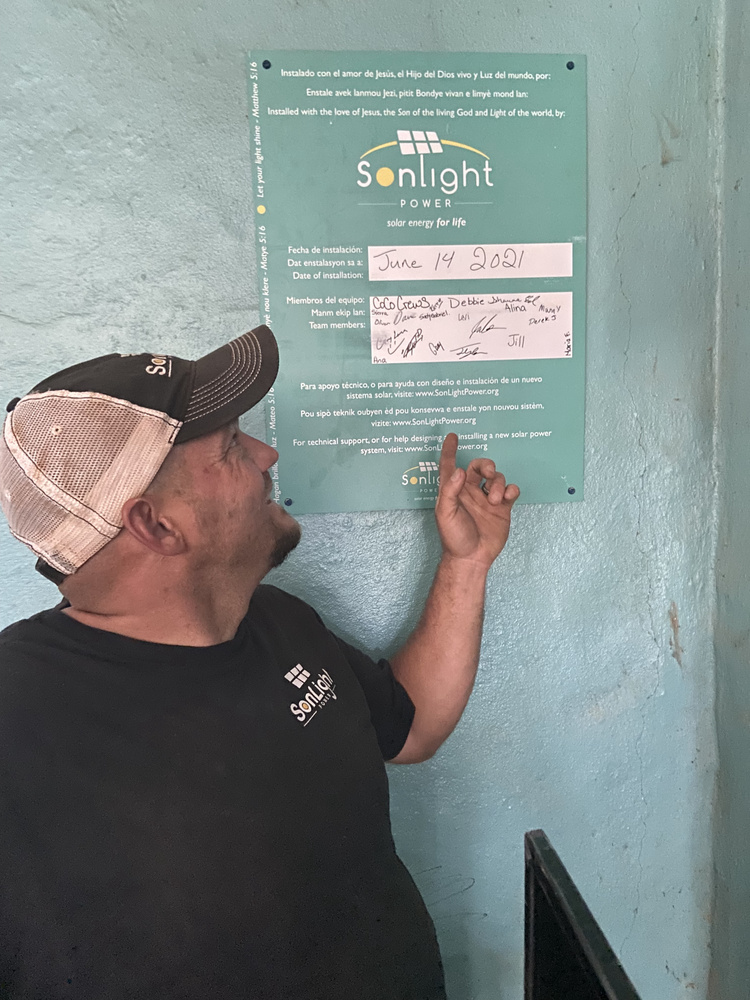 One of those options came from a familiar source: Clay Luna, SonLight Power Director of Programs. It was at this time that Clay, who led the solar installations during the trip, received some unexpected news from his missions pastor at Thousand Hills Cowboy Church in Lawrenceburg, Tennessee.
"As we were considering how we were going to fill this team, Clay's missions pastor came to him and said, 'We actually have some available funds in our missions budget and we don't really have any plans for them. Is there any way that you could utilize them with SonLight Power?'" Jill recalls.
"It really felt like a great moment where God was intersecting the need to fill the team and the trip fundraising gap," says Jill. "Based on that, Clay announced at church the opportunity to join the team."
That sequence of God-inspired events made it possible for the trip to take place and for a new mission partnership with Thousand Hills Cowboy Church to take root. Appropriately, the team served in Olancho, the department of Honduras best known for its cattle.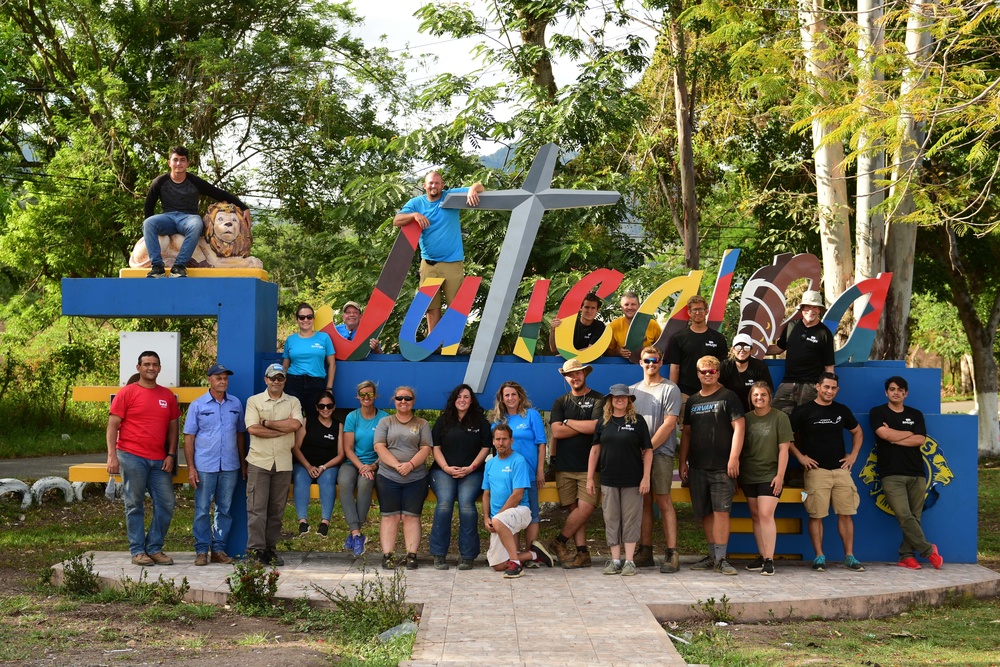 Debbie summarizes well what it meant for God to use our combined team of U.S. and Honduran members for impact in Honduras that's not just sustainable, but eternal:
"If we can plant that seed of joy and love from Christ that we're sharing, maybe they'll take that somewhere and they'll use that same love. And I may not get to see the growth from that seedling, but I know that it's planted. So, if somebody else comes along and sees that something has happened, that's fine for me. I just know that we planted a seed of love that they can build on and that they'll remember forever."
Now that's how to honor 20 years of solar-powered mission trips.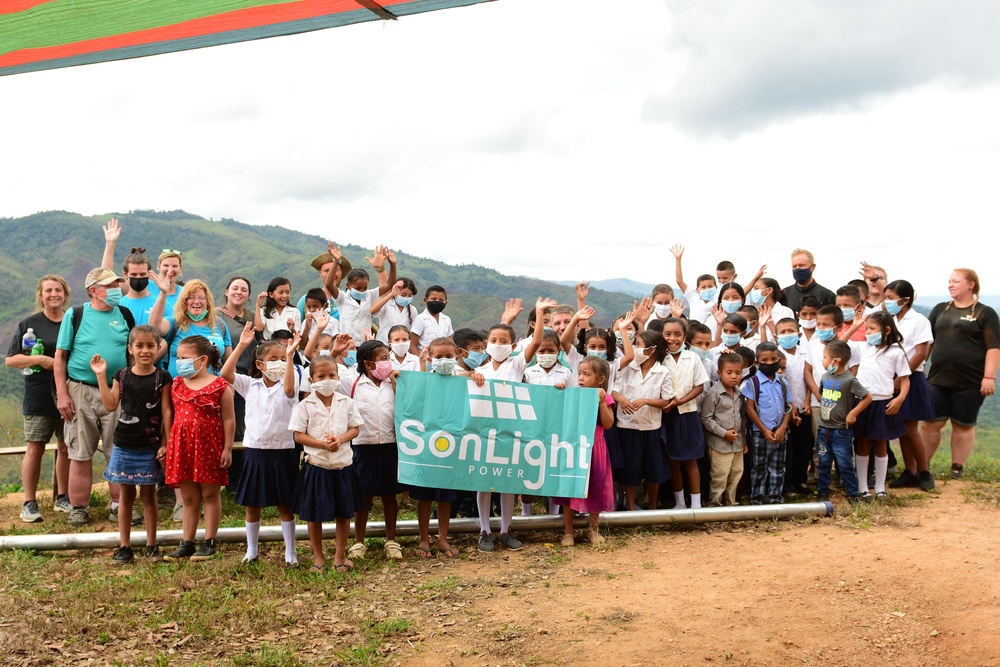 For more information: SonLight Power: Our Mission in Honduras