November 15, 2017 / Haiti - Leadership - Nov 2017 / Source: John Stowell
Good to Great:
SonLight Power re-writes the book on mission trips
Good to Great is the title of Jim Collins' influential book on management. It's also a phrase that could describe the transformation of SonLight Power mission trips.
"We've been called to be great at two things: ministry and solar power," said Kevin Sasson, SonLight Power executive director. "Our recent trip to Haiti ensures we're fulfilling the promise of the SonLight Power mission on both fronts."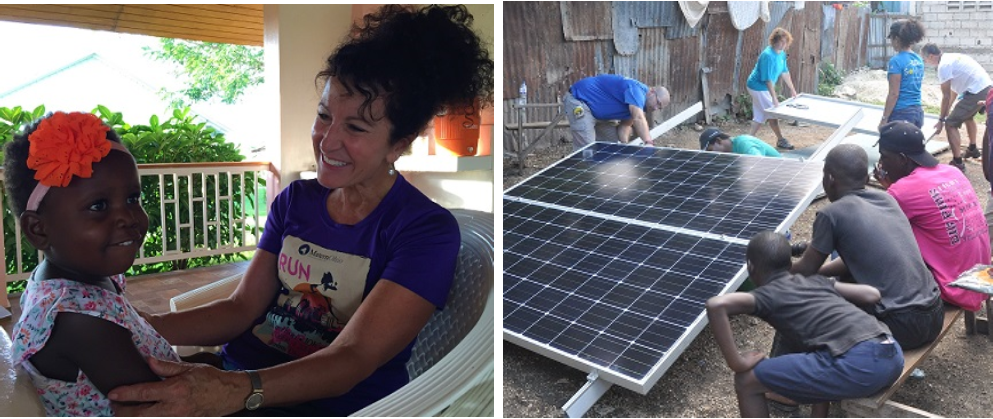 SonLight Power's unique solar ministry is being boosted with the addition of a designated spiritual mission leader for future trips. In early November 2017, a trip to Haiti served as the backdrop for the launch of this program, bringing together 10 long-time supporters and future spiritual mission leaders.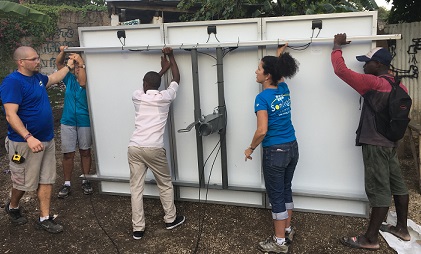 "We provide a tangible work product through our solar energy systems that has attracted a lot of people to our mission and that's good," SonLight Power board president Jim Cochran explained. "But I feel we have an opportunity to leverage those obvious tangible benefits to create an even greater spiritual impact on our trips."
Having solar technical leaders and spiritual mission leaders allows both roles to concentrate entirely on their specific contributions to the overall mission trip, Jim said. The spiritual mission leader will focus on the devotional needs of the trip participants, the communities being equipped and other mission groups serving the same population.
Jim's wife, Dana Cochran, developed the new program and served as spiritual mission leader for the Haiti team. Along with mission partners at World Hope International, that team equipped two schools and a church with solar energy for critical applications.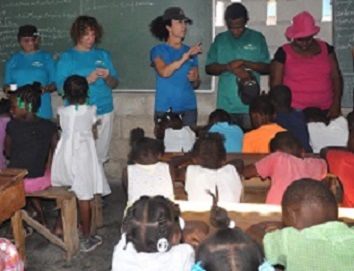 Before the trip, Dana provided the mission trip participants with a journal and urged them to record their thoughts before, during and after each day. Using a devotional guide, Dana led the group each morning to reflect on selected biblical passages, getting everyone in the right mindset to work. Then, in the evening around dinner, she would lead a discussion about the day.
"We'd talk about how we saw God moving that day and what He was speaking to us about," she explained. "We'd be flexible about using the guide. That's one thing I learned about these trips – you have to be flexible."
Dana laughed as she recounted one evening when the group simply looked exhausted. "You have to look at them and say, 'what is their capacity emotionally, spiritually physically?' So, on the fly, we said 'just rest.'"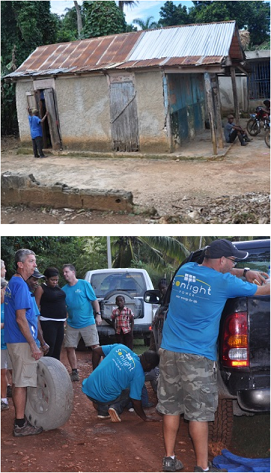 Despite the intense poverty of Haiti, Keith Brown and his wife, Nancy, saw so much good in their week-long trip. "Haiti is another world that you really can't prepare for," Keith said. "It was a culture shock to be sure and things don't always go according to plan. But we saw evidence of faith in God everywhere you looked."
The spiritual leader pilot program, he said, was wildly successful. "We were all seasoned believers so there was an expectation that God was present and active, and this was His deal," Keith said. "We trusted Him and kept going even though it was hard work."
Keith was particularly impressed with other missionaries he saw in Haiti, devoted Jesus-followers who worked in schools, orphanages and in work-training facilities. Their ministries, he said in a blog he posted upon returning to the U.S., "are the true spark of hope" that can unlock human potential and erase many injustices. (Read Keith's blog, Haiti 4.0)
Jim Cochran is excited about the freshened approach to our mission trips. He sees it as evidence that the SonLight Power mission continues to grow to effectively meet spiritual and practical needs.
"When you preach the Good News, it is often affected in skeptical cultures," Jim said. "So, what we're doing here is presenting the Good News first in practical terms. That starts a whole spiritual good news conversation and opens eyes. It's a natural duality. Be the good news first before preaching the Good News."