February 13, 2018 / Solar Academy in Haiti / Source: John Stowell
From Vision to Reality: SonLight Power Solar Academy in Haiti due to launch in 2018
In recent years, Haiti has become a special place for SonLight Power. It is a place where God has called us to share light and hope with one of the world's vulnerable countries.
Now, having directed over 50 solar power installations throughout the country, SonLight Power is exploring its next commitment to Haiti: Establishing a solar academy for Haitians.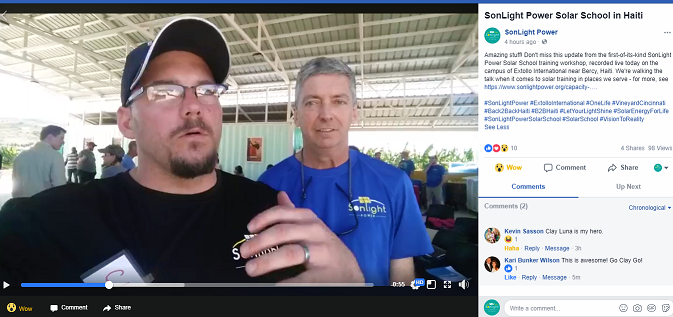 On February 12, Clay Luna, SonLight Power's new Director of Programs, and François Vibert, SonLight Power intern and Fulbright Scholar from Haiti, led a first-of-its-kind solar workshop at the Extollo International training center in Bercy, about an hour's drive north of the nation's capital of Port-au-Prince. This half-day pilot workshop was open to the Haitian staff of SonLight Power mission partners.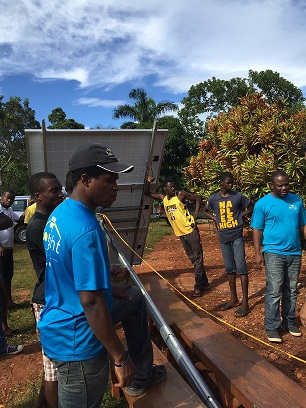 The objective of the workshop was to equip Haitians and partner organizations with the fundamental skills required to install and maintain solar power systems. It was also intended to raise awareness and interest in future SonLight Power solar workshops in Haiti.
SonLight Power Executive Director, Kevin Sasson, said the response to the first-ever workshop exceeded expectations. It attracted more than 30 participants from 10 mission organizations throughout Haiti.
"These numbers are an indicator of the high level of interest in solar power right now," Kevin explained.
"The workshop wasn't publicized either," Kevin said. "Details were spread by word-of-mouth with our mission partners, which also indicates the high level of trust our partners have in SonLight Power's ability to deliver a quality learning experience."
"I think it speaks volumes about the expertise and reputation of people like Clay and Allen [Rainey] who have earned the trust of our partners over many years meeting the needs of Haitians and missionaries in Haiti," Kevin continued. "It's a blessing to know our partners perceive so much value from our efforts."
Extollo International was an ideal partner to host the workshop. Extollo is a California-based non-profit that has worked in Haiti for years training Haitians in the construction and electrical trades. The Extollo training center in Bercy offered a convenient locale to share our knowledge and experience.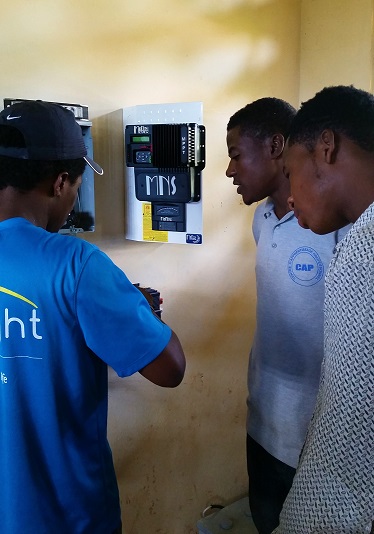 According to the World Bank, only about 4 in 10 Haitians have access to electricity and many of them put up with frequent power outages. Economic development has suffered, in part because of the lack of reliable electricity.
The country's unemployment rate, while hard to pinpoint with current data, widely ranges anywhere between 20–70 percent depending on the source. There is a critical need for skilled labor to rebuild the nation's infrastructure after recent catastrophic earthquakes and hurricanes.
However, one natural resource in Haiti that is more than abundant is sunshine, the key ingredient for solar power.
Thanks to a generous contribution from a long-time advocate of SonLight Power, we plan to launch a solar power academy in Haiti this year. Our vision is to establish a permanent facility to train Haitians on best practices to install and maintain solar power systems.
What's more, we can use our growing pipeline of solar projects in Haiti as an extension of the classroom, where students can apply what they have learned under the guidance of SonLight Power solar installers.
"Over the long term, we're looking to apprentice more and more Haitians and equip them with the skill sets they need to get good jobs in Haiti," Kevin explained. "The pilot workshop this week is one of the first steps toward making that vision a reality."
"God has shaped SonLight Power into a ministry where we can foster faith-based hope and generate the kinds of opportunities that will, in turn, create jobs to break the cycle of poverty that has hindered Haiti for so long," said Kevin.

The next step in SonLight Power's mission in Haiti is to break the chains of material and spiritual poverty by eliminating dependency and encouraging skilled careers in sustainable solar power. Thanks to your generous support of SonLight Power, we are making a difference.
To see first-hand the vision you're making a reality in Haiti, watch the latest SonLight Power video, Empowering Communities – Next Steps in Haiti: https://www.youtube.com/watch?v=CsHLU0si9eE