April 8, 2022 / SonLight Power Mission Trips
---
"When Hurricane Maria came through, we served as a kind of a refuge for a while. Although we lost half of our roof, we were still having services."
—Carolyn Torres, Treasurer of Iglesia Fuente de Vida (Fountain of Life Church)
---
When predicting the next devastating hurricane in the Caribbean, it's not a matter of if another will occur. It's a matter of when.
SonLight Power recently partnered with Cincinnati Hills Christian Academy (CHCA) on a January-term (J-term) mission trip to equip a Puerto Rican church community with faith-filled hope and solar-powered resilience to combat future hurricane seasons.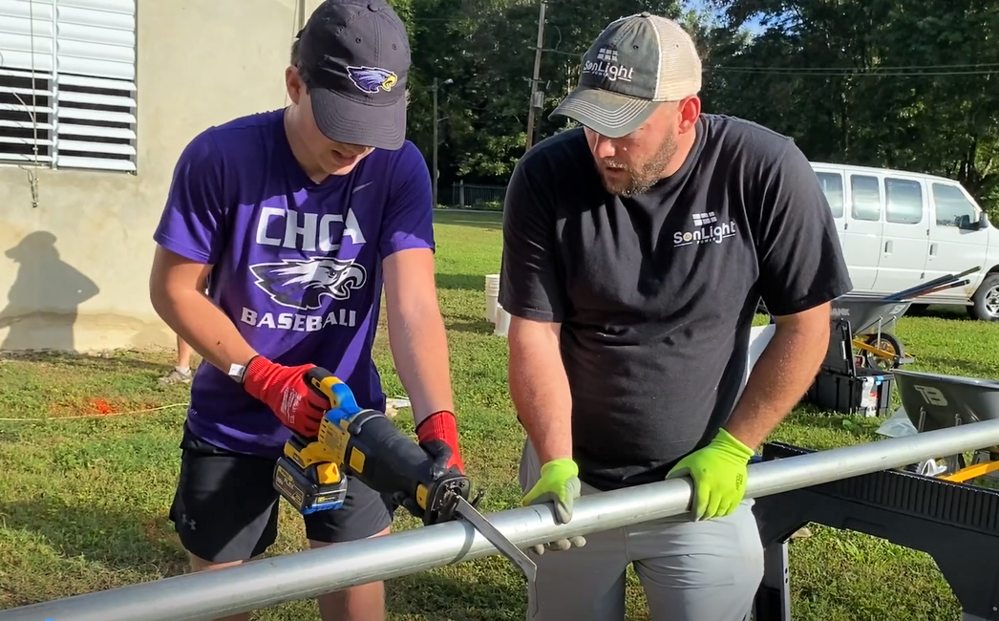 Together with local partners in Puerto Rico, the SonLight Power mission team comprised of 12 high school students and three chaperones from CHCA came together to install a 7-kilowatt solar power system with lithium-ion battery bank at Iglesia Fuente de Vida (Fountain of Life Church), just outside the town of Arecibo.
In 2017, Hurricane Maria infamously devastated Puerto Rico, an island territory of the United States. An estimated 400,000 Puerto Ricans were without electrical power for five months. Not five days…five months. Arecibo was no exception.
Frequent blackouts were common even for those with access to electricity, affecting all aspects of life in the hurricane's aftermath. Some of the most vulnerable were those in need of refrigeration to preserve medicines, vaccines, and food.
In response to the immediate need, SonLight Power equipped a team from Spanish River Church (Boca Raton, Florida) to install solar power systems at various sites, including a life-saving system for an elderly woman whose survival depended on basic electricity for a feeding machine.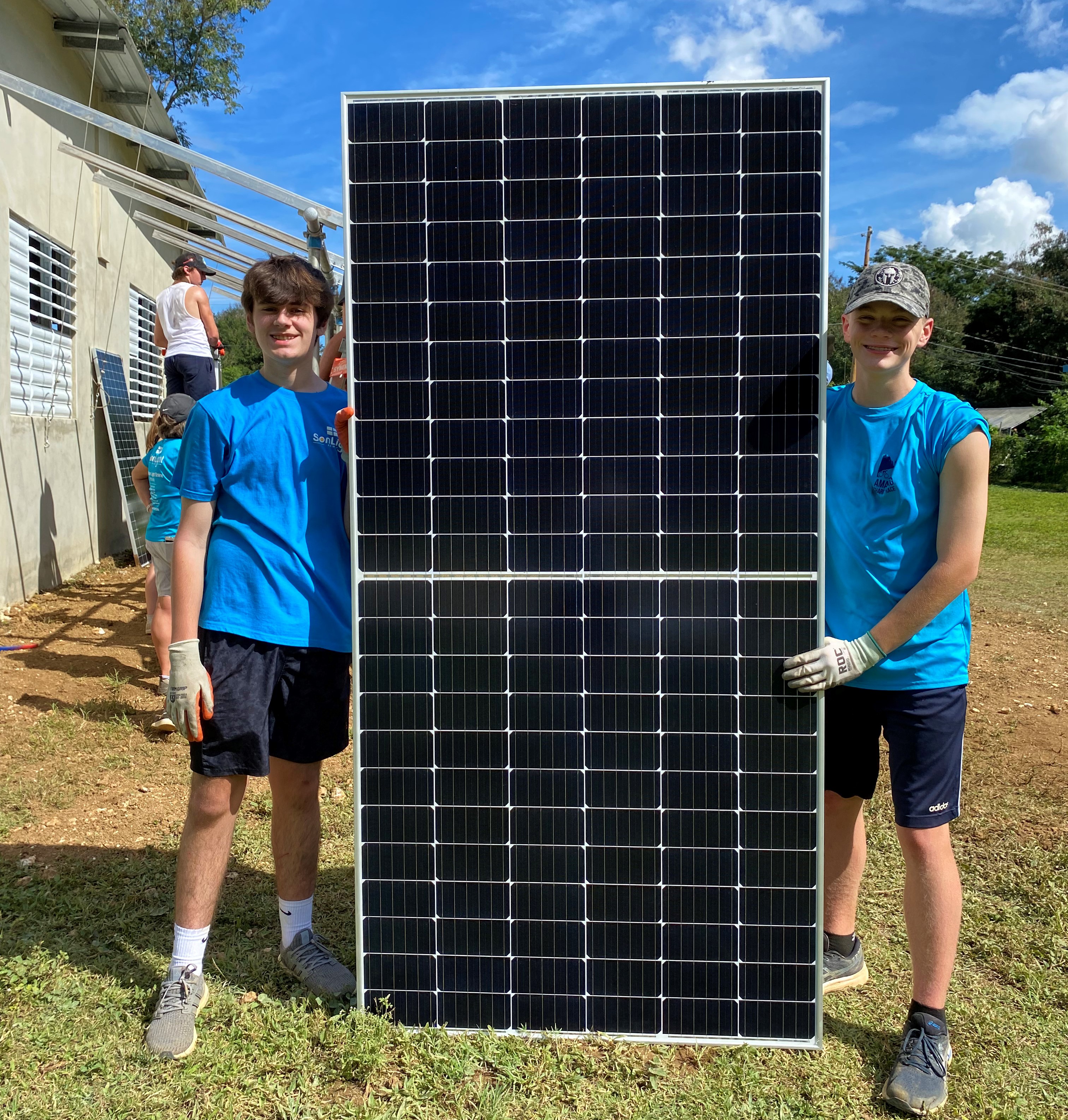 Hurricane Maria's long-term effect on lives and infrastructure continues. Maria lingers in the memories of Puerto Ricans like those in the community around Fuente de Vida. Even without reliable power in the months following the hurricane, the church served as a hub for residents in need of food, shelter, and other basic human services. It continues to serve the community in similar ways today.
The solar energy system installed by student volunteers from CHCA will equip the church community with reliable, clean electricity and life-saving hurricane resilience for years to come. It also equipped the team with life-lasting memories.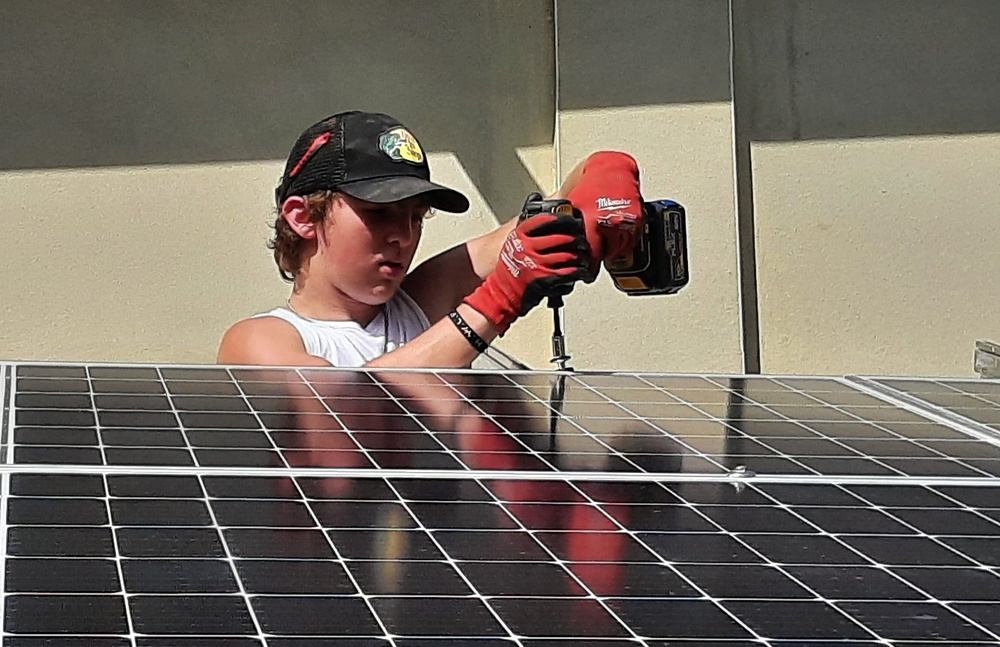 Church as Refuge
The importance of Fuente de Vida's role in the surrounding community cannot be overstated. The church functioned as a haven during and after Maria. It remains a refuge for the community to this day as Puerto Rico endures more natural disasters.
"In January 2020 when the earthquakes were occurring, we also served as a place for people because they were afraid to stay in their homes and our church was sturdier," says Carolyn Torres, the church's treasurer. Community members seeking shelter from the earthquakes stayed in a newer section of the building constructed with cement.
"They stayed while the earthquakes were continuing, until at least the tremors stopped, so they would feel safer to go back to their own homes," she explains.
The church serves as a beacon to neighbors in multiple ways. In addition to shelter, the church offers other basic human services for nearby residents, such as food and essential supplies.
"We have a small storage area where we keep things. People bring food in and we take it to someone who is in need," Carolyn says. With expanded federal food assistance, the church supplies items like detergent and toilet paper that can't be purchased with food coupons.

Teen Spirit
When Carolyn and others in the community learned that SonLight Power and volunteers from CHCA were coming to equip their church with a solar power system, they couldn't believe it at first.
"We're just a small church, a very small church in a very rural area and I really didn't expect anything like that for us," exclaims Carolyn. "It was amazing."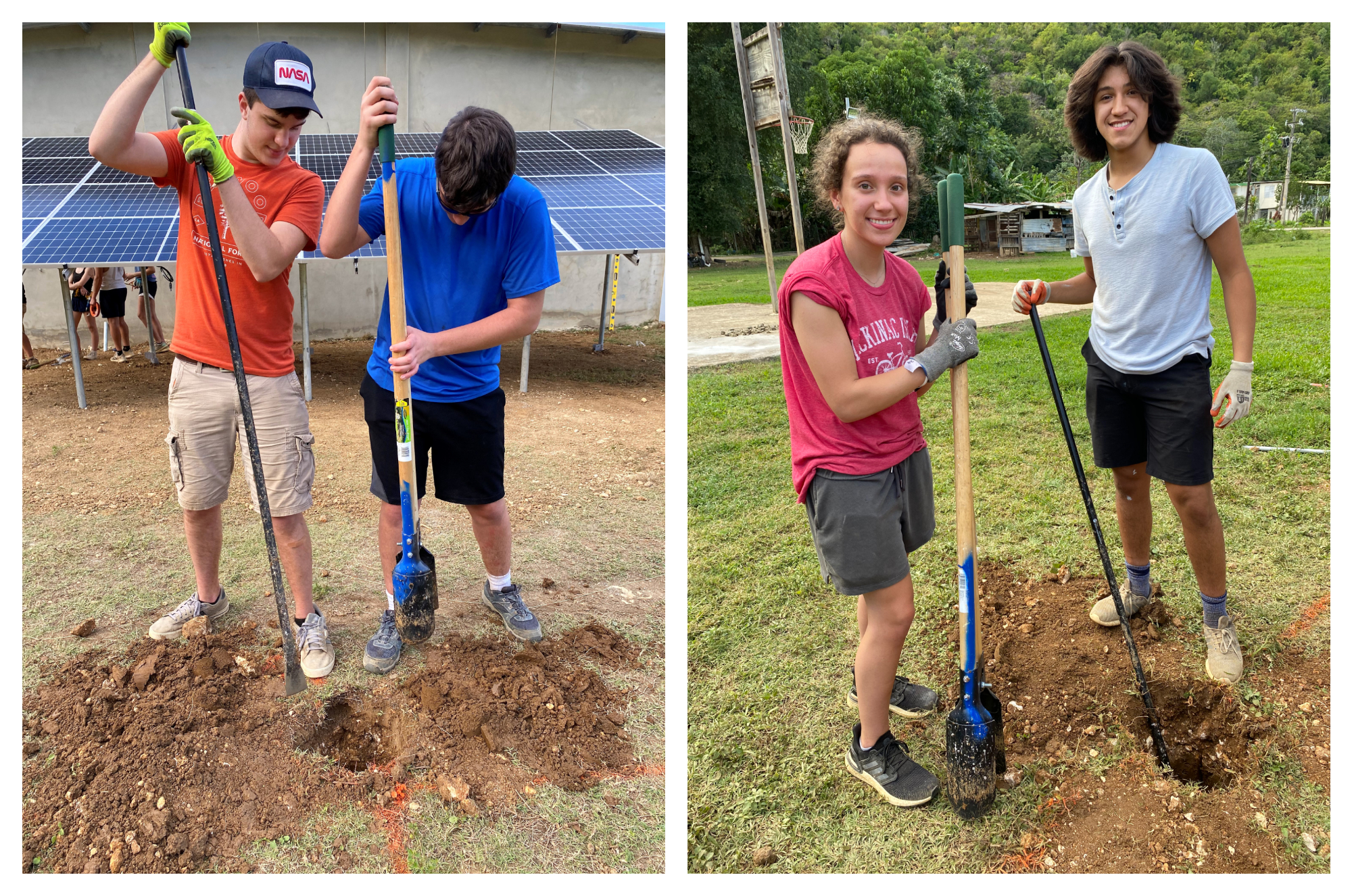 ---
"Just seeing the enthusiasm the students had and how well they worked – they were really hard workers, they did a tremendous job – that was really a highlight for me. Just seeing how they responded to the whole situation."

—Patty Fite, CHCA Spanish Teacher & Team Chaperone

---

The installation wasn't going to be easy, though. Most of the CHCA high schoolers who signed-up for this J-term service and cultural immersion trip hadn't worked with solar power or even basic tools. Prior to the trip, the team participated in a half-day SonLight Power Solar School workshop where they learned the fundamentals of electricity, solar energy, and power tool operation.

Apprenticed by SonLight Power team leaders at the project site, the students started the labor-intensive work needed to build the large racking mechanism to mount the 16-panel solar array. Their efforts to dig ten holes at a depth of 4-feet met stiff resistance in the form of limestone and hard rock.

Next, they manually mixed the cement that was poured into each of the holes. The cement anchored the poles that serve as the base of the racking mechanism, ensuring the array withstands future hurricane-force winds.

After the solar panels had been mounted, the teens dug even more holes in the rocky ground as they built a protective fence around the array. It was some of the hardest, yet most fulfilling work they had ever experienced.

"I think everybody felt a real sense of accomplishment," reflects Patty Fite, a CHCA Spanish teacher who served as a chaperone on the trip. "The whole experience inspired at least one of the students to seek an internship with SonLight Power."

The team's hard work and spirit of service did not go unnoticed by the community either.

"The kids were so responsive," Carolyn says. "They were not so much 'I'm in this for me' and more like 'I'm in this for you,' and that's really sweet."

Connecting with the teenage students was particularly meaningful for Carolyn. One of her personal goals is to bring more children and teens into the church as a place to study.

"We're planning on upgrading our internet because we need to help those kids that have studies online because still some people aren't going to school full time," she explains.

Just the Beginning

The solar power system and lithium battery bank elevate how Fuente de Vida meets community needs in practical ways to share the love of Jesus. The church has already seen evidence of reduced dependence on the unpredictable electrical utility grid. Savings on utility bills can be reinvested in the church's Kingdom impact.

And during power outages, the church is a more resilient hub for neighbors in need of reliable electricity for critical uses such as charging mobile phones to stay connected on important news or emergency weather procedures. When the next big storm, hurricane, or earthquake inevitably hits Puerto Rico, Carolyn says, "we're much more prepared than we were."

Case in point: Just three months after the system was installed at Fuente de Vida, an island-wide power outage occured, leaving some 3.2 million people in the dark for multiple days. According to the Puerto Rican utility company, an unspecified failure led to a fire at the Costa Sur power plant outside the town of Guayanilla on the southwest coast, cutting power across the island.

Thanks to the new battery-backed solar power system, the church community had access to electricity for critical needs during the massive outage.

In addition to the timely installation of the system, Carolyn is also excited about the discipleship opportunities solar power will bring.

"I think as the youth nearby get used to the idea that we're going to have reliable electricity, there will be a movement," explains Carolyn. "Once they get involved, I think they'll want to stay around. Maybe we'll find one of the kids that knows a lot about electricity and wants to come study what we did and learn more about Jesus in the process."

Closer to home, the mission partnership between CHCA and SonLight Power is only getting started. The successes of the J-term mission trip to Puerto Rico sparked mutual interest in future SonLight Power trips with CHCA students. Another SonLight Power | CHCA J-term trip to Puerto Rico is in the planning stages for 2023.

As one CHCA student on the trip explained, "I like SonLight Power because they're making lasting change and they're also led through Christ."

Based on our shared experiences, this trip won't be the last time SonLight Power and CHCA combine solar power and the love of Jesus to make lasting change in Puerto Rico.

---

Find out how your high school or university can partner with SonLight Power for purpose-driven service immersion trips for lasting impact. Connect with us at Info@SonLightPower.org.
For more information: Video: SonLight Power & CHCA Service Immersion Partnership in Puerto Rico