July 20, 2022 / Equipping schools with solar power
---
"We love Lincoln Heights and we love the mission of SonLight Power."

– Randy Henson, Director of Outreach for Vineyard Cincinnati Church
---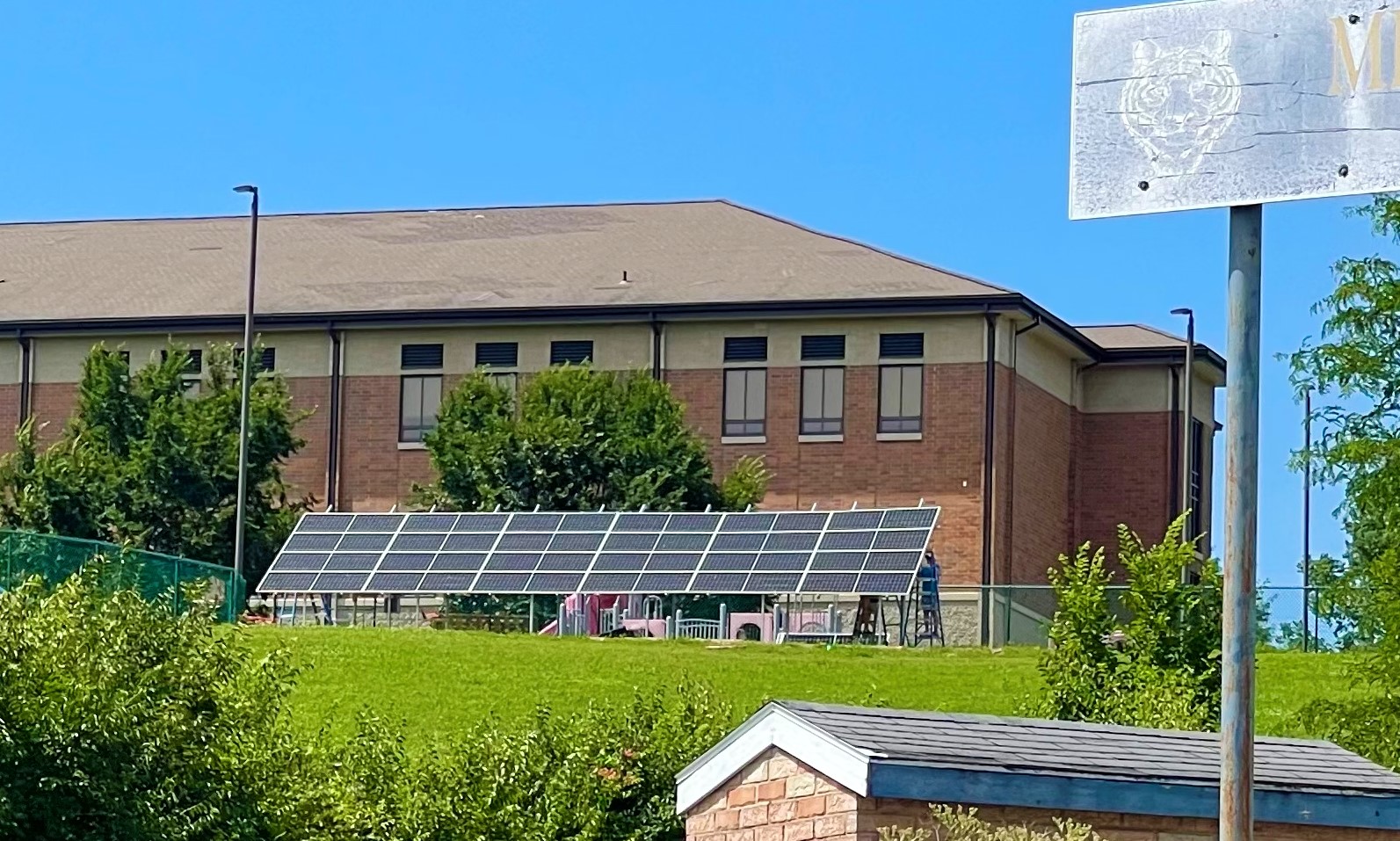 You are the light of the world. A city set on a hill cannot be hidden. In the spirit of Matthew 5:14, a new solar array sits atop a hill in Lincoln Heights for all to see.
In practical terms, a SonLight Power team of volunteers equipped Lincoln Heights Elementary School with a 12-kilowatt solar array that will power an innovative STEM lab inside the school, making possible new opportunities for kids and teachers at LHES.
In spiritual terms, the new array not only reflects the light of the sun, it also reflects the light of the Son, Jesus, whose love shined through those volunteers making a lasting impact for our neighbors in the Village of Lincoln Heights in Greater Cincinnati.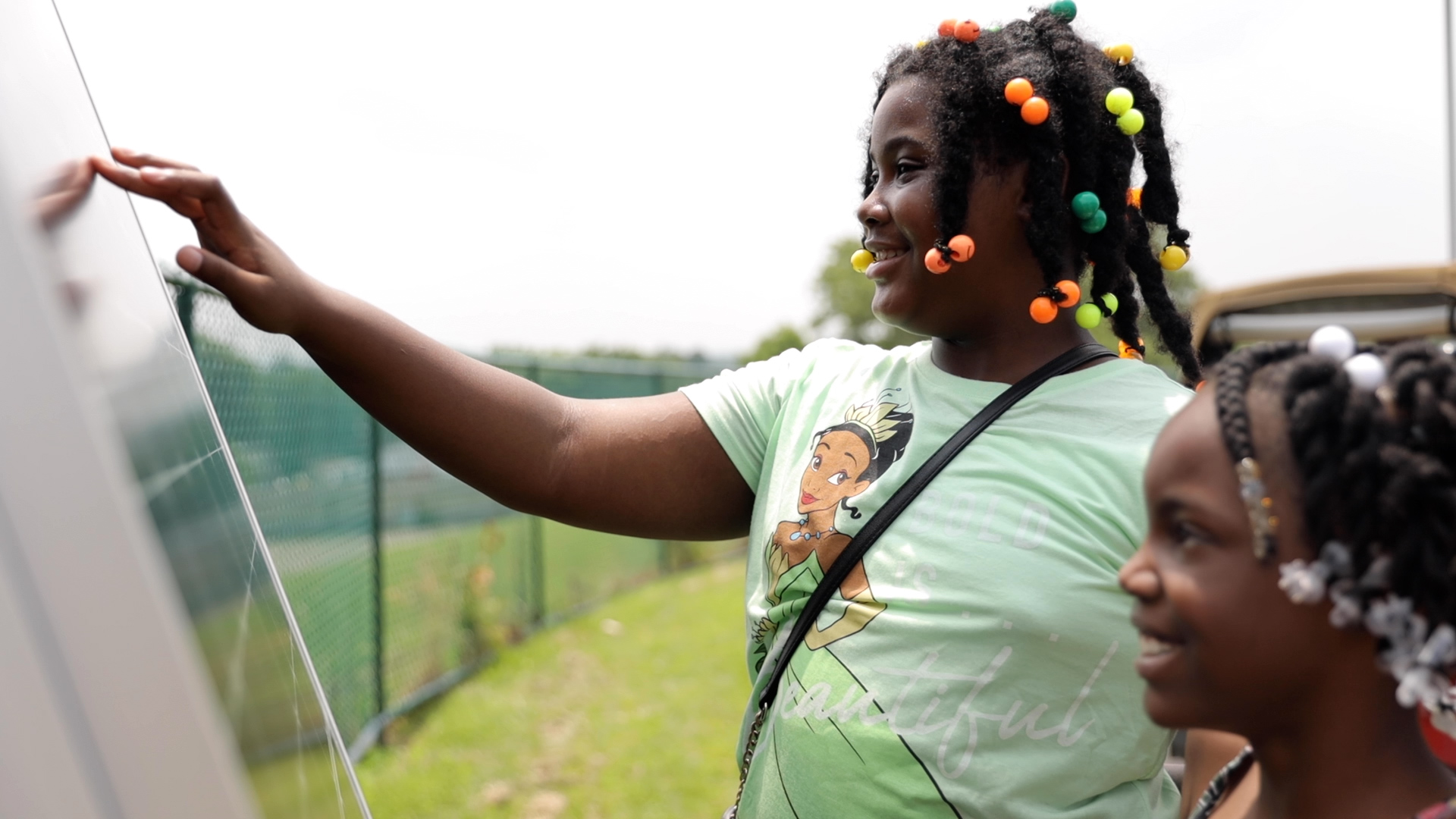 Makeover Momentum
The solar project is an integral part of the Cincinnati Reds Community Fund's 2022 Community Makeover, now in its 13th year. The annual Community Makeover enlists the support of Cincinnati partner organizations to make a significant, sustainable impact and transform neighborhoods through construction, design, and local engagement.
You may recall SonLight Power contributed to the 2021 Community Makeover in the Cincinnati neighborhood of Avondale by equipping Rockdale Academy with a new solar power system. The solar energy produced by that system powers a large greenhouse as part of a massive Urban Learning Garden that is transforming a fresh food dessert into an urban oasis.
Building on the momentum from last year's Rockdale Academy solar project, SonLight Power again joined forces this year with the Reds Community Fund and blue-chip Cincinnati organizations like P&G, the Cincinnati Zoo & Botanical Garden, Cincinnati Children's Hospital, and General Electric to transform Lincoln Heights.
---
"I think it's huge for the whole community. This is one piece of a huge project where someone is giving love and attention to a community that is very well deserving of it."

– Dawn Bailey, Principal of Lincoln Heights Elementary School
---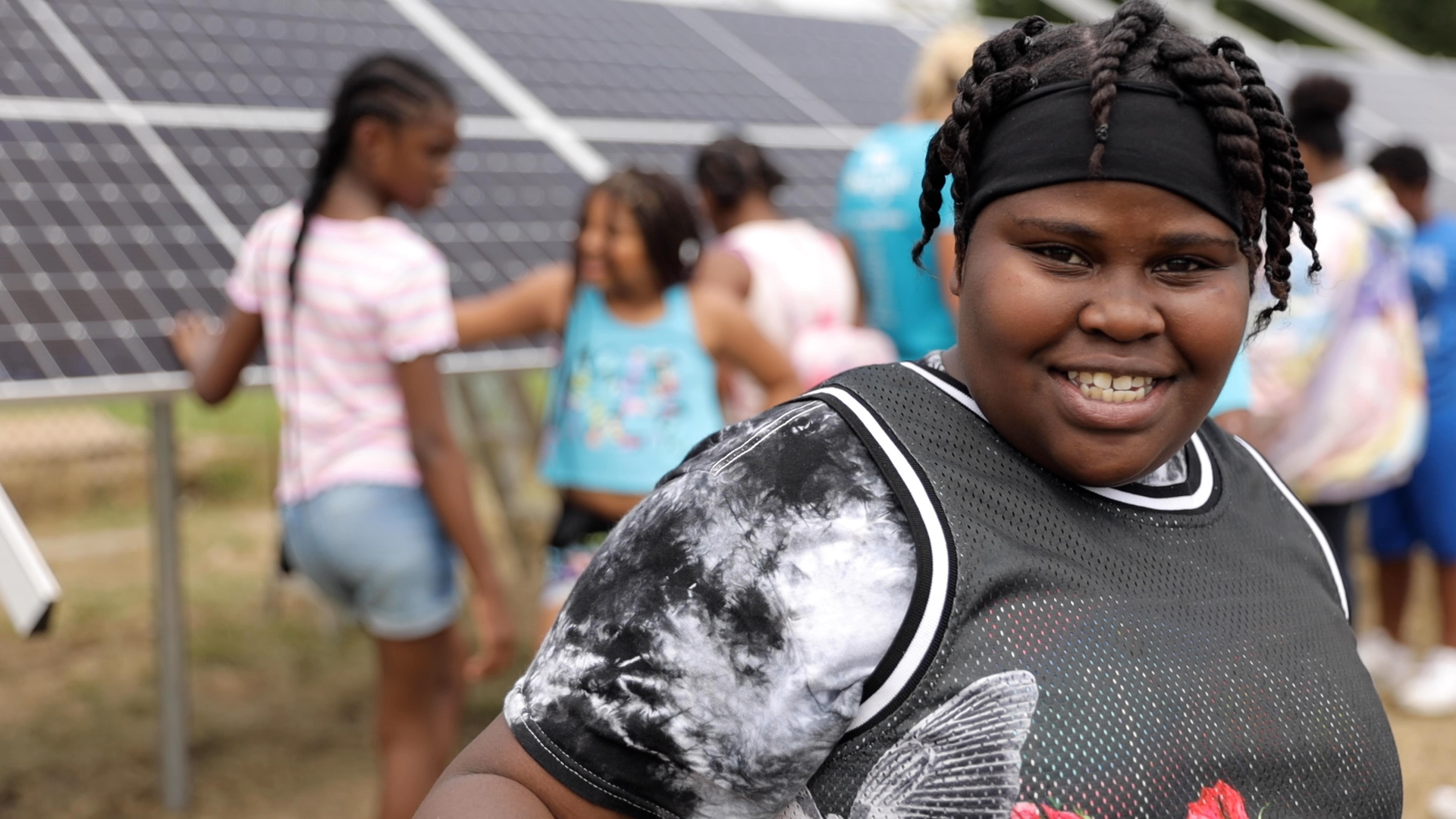 SonLight Power's contribution to the 2022 Makeover is a 12-kilowatt grid-tied solar installation at Lincoln Heights Elementary School, one of six Makeover sites. Project partners from the Cincinnati Zoo and TMI Energy Solutions provided valuable engineering, design, construction, electrical, and permitting support for the ground-mounted solar array.
The solar project will not only elevate STEM education for students today and in years to come, it also brings hope and awareness to Lincoln Heights.
"I think it's huge for the whole community," says Dawn Bailey, Principal of LHES. "This is one piece of a huge project where someone is giving love and attention to a community that is very well deserving of it."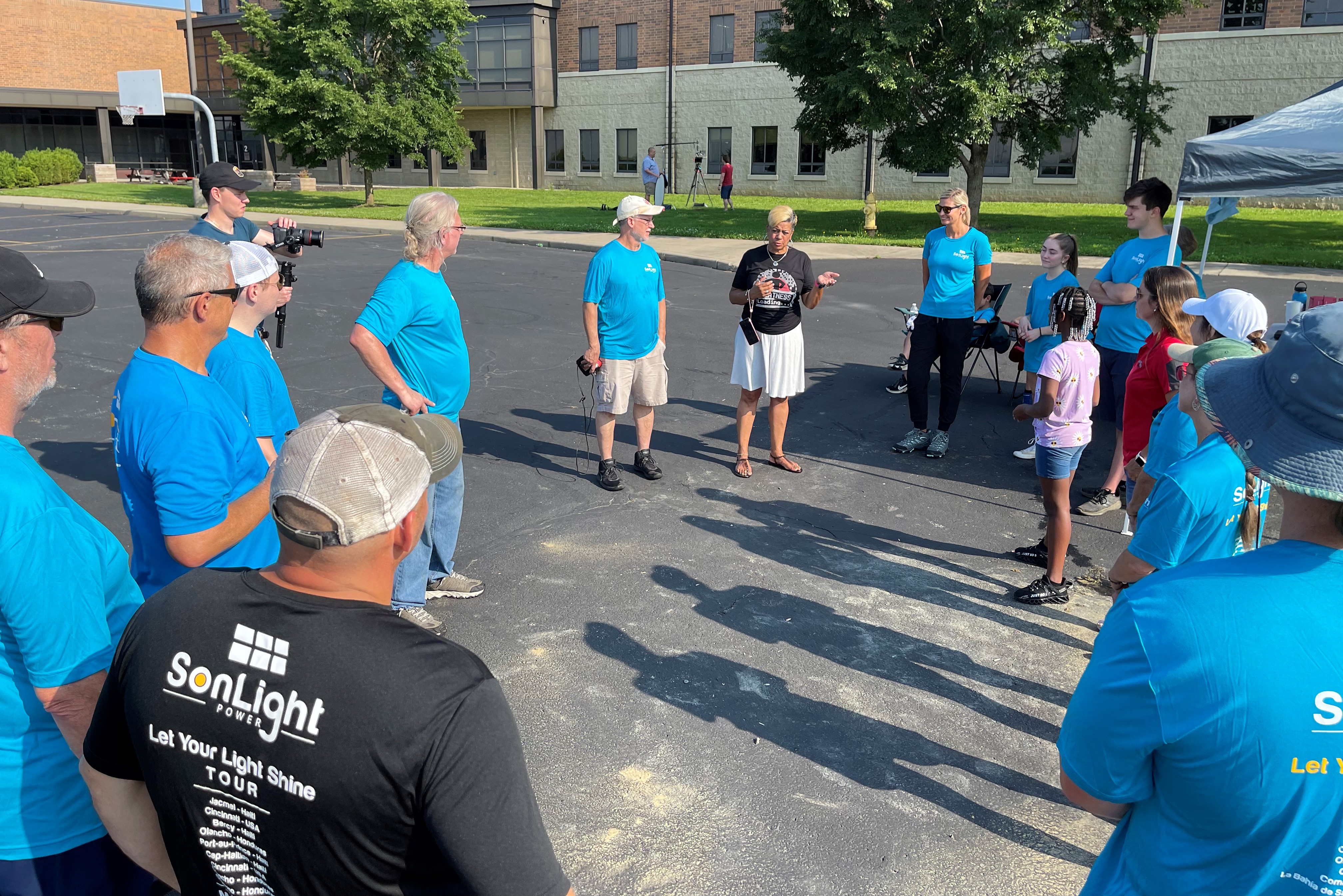 The Village of Lincoln Heights was established in 1947 and was the first African American self-governing community north of the Mason-Dixon Line. It currently has about 3,300 residents. From its beginnings, Lincoln Heights has experienced headwinds to growth and development in relation to surrounding neighborhoods, impacting LHES too.
"People have recognized these patterns and things have started to change," says Principal Bailey. "Kids don't know about the history, but parents do. People in the community do. The staff that's been there does."
"I think that it will be a resurgence of hope to them that we're not forgotten," continues Principal Bailey, explaining how change from the new solar power system and the entire Makeover will fuel hope in the community. "It makes a major difference to all of us. It truly does. I'm excited about the opportunities in the STEM lab and teaching the kids about solar energy."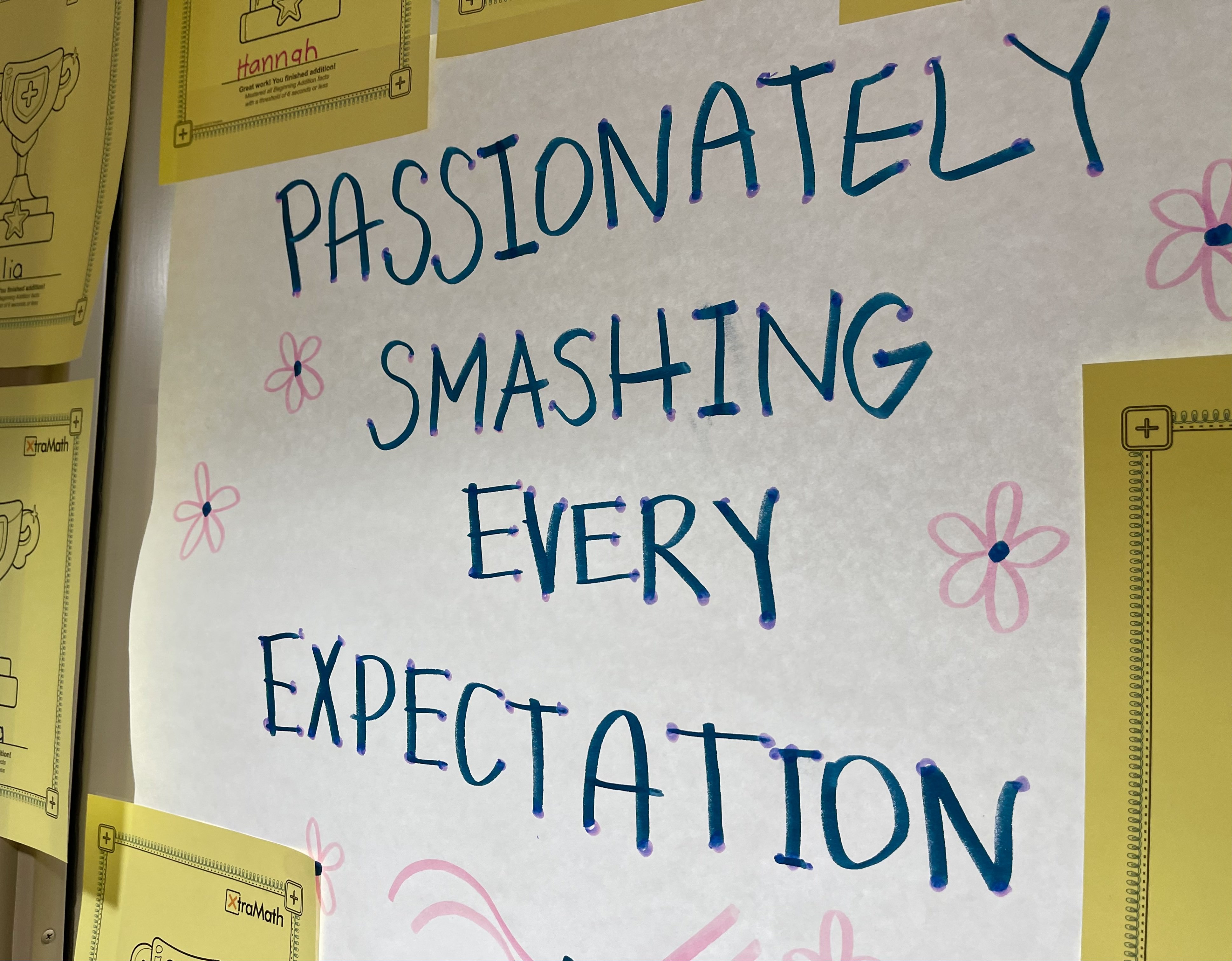 Power of Partnership
Like the project at Rockdale Academy, the solar installation at LHES was made possible through a grant from the Johnson Charitable Gift Fund. This year, the project was supplemented by a second source of funding from Vineyard Cincinnati Church.
VCC's Give It All Away initiative contributed essential financial support to complete the project. In addition, VCC contributed critical volunteer support. Ten VCC volunteers helped with every aspect of the installation, from digging trenches for electrical conduit to tightening bolts on the racking system holding the solar panels in place.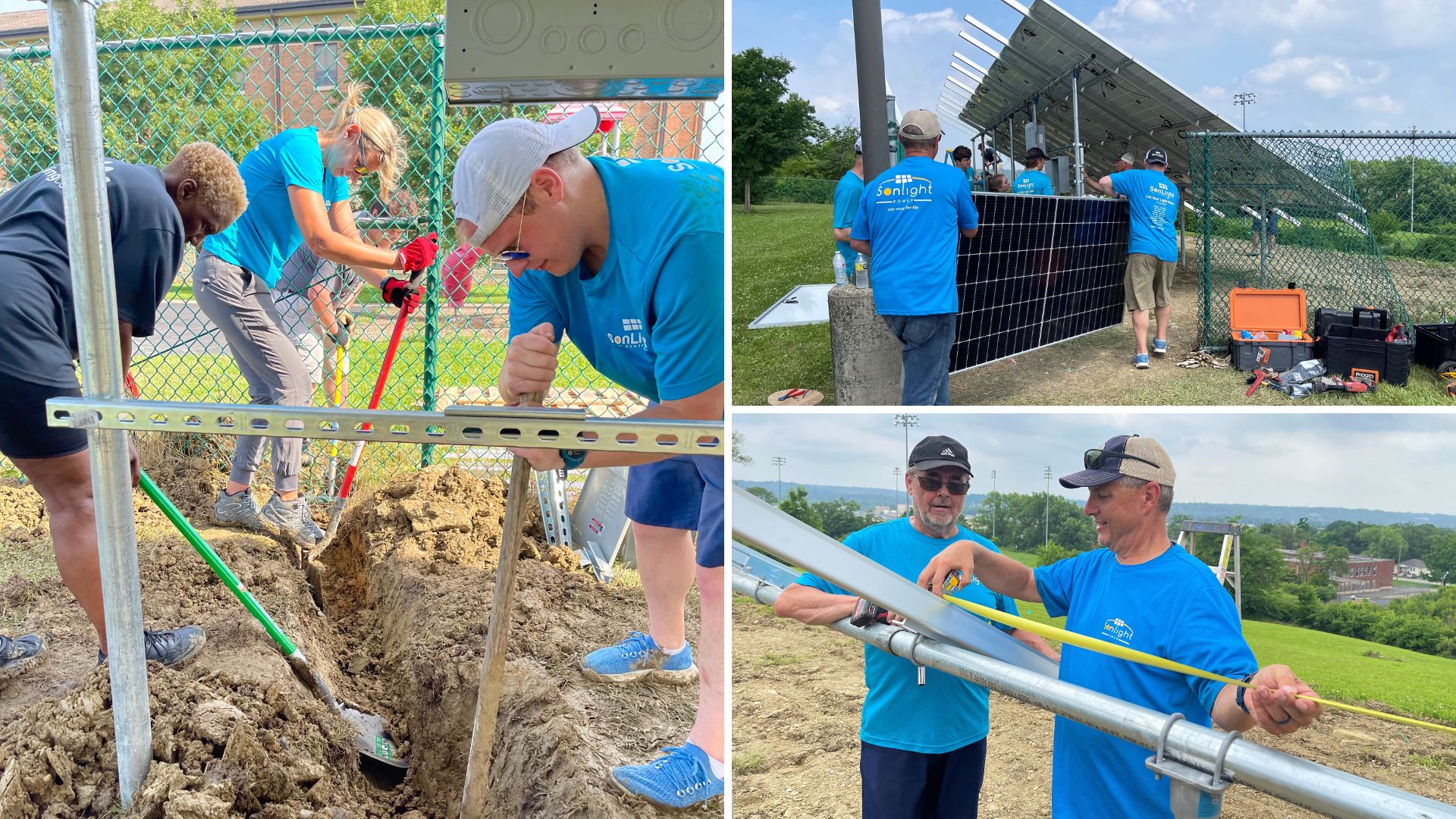 VCC selects Kingdom-building non-profits like SonLight Power as Give It All Away funding recipients after evaluating several factors. According to VCC Director of Outreach, Randy Henson, choosing SonLight Power was easy.
"When Kevin Sasson from SonLight Power approached me about getting involved in this project, right away it was 'Yes! We love Lincoln Heights and we love the mission of SonLight Power'," Randy explains.
"We as a church entertain the idea of supporting lots of organizations, but the reason why this one in particular meant so much was because we have had a previous relationship with Lincoln Heights," says Randy. "Because we've done outreach and service in the community for years, it's important to us."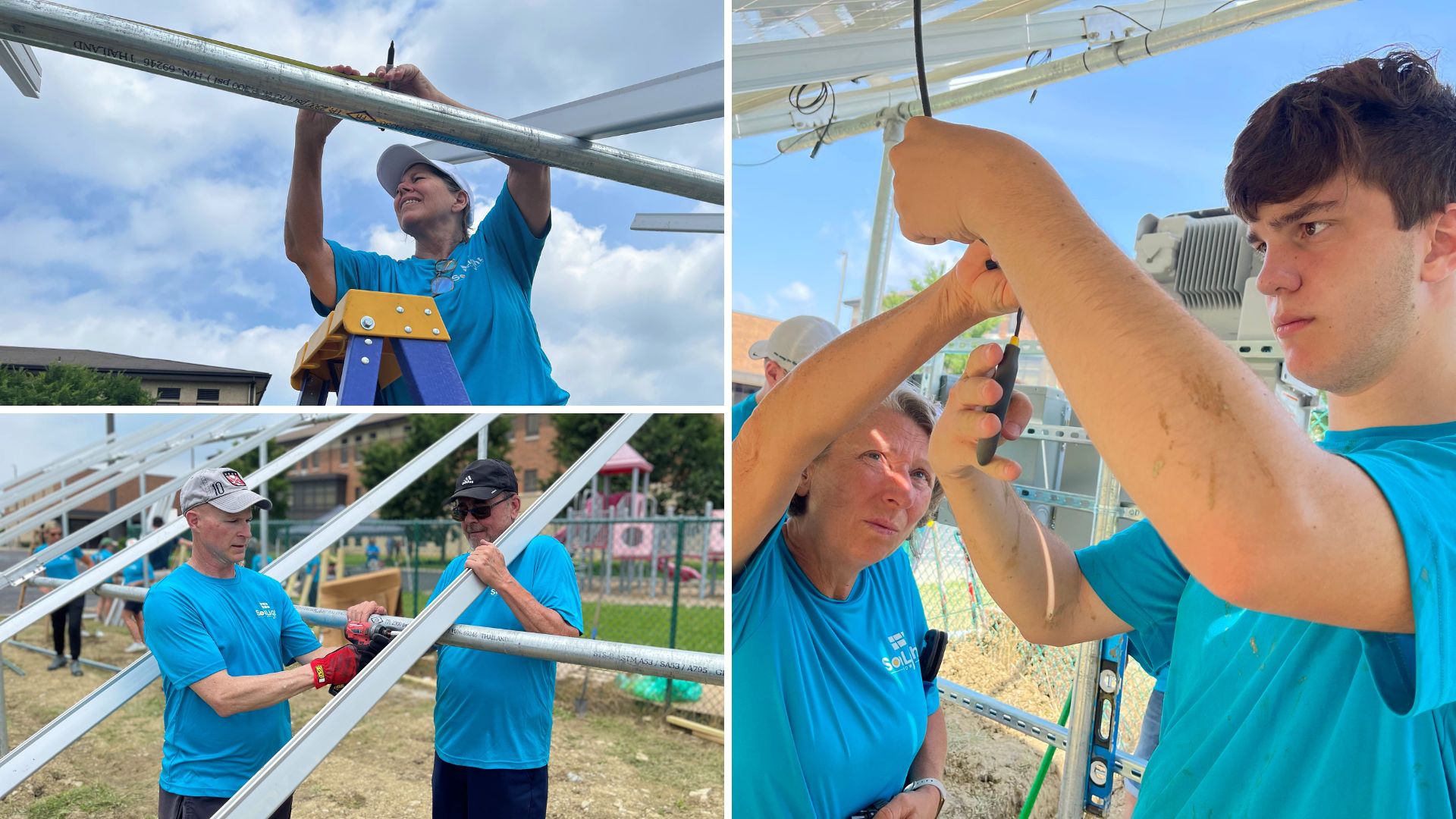 From Theory to Reality
Why was SonLight Power's solar outreach important to the decision? Randy shares the tangible impact the project will have: "The solar installation will not only save energy costs for the [Princeton City Schools] district, but it also leaves a clean energy thumbprint on the community. When it comes to caring for our environment, that's a big deal."
"The biggest impact is knowing that the savings and the solar panels actually power and guide a program and a curriculum for students who are engaged in STEM learning, which makes perfect sense," Randy continues. "The opportunity for students to engage in real technology that they can see and touch is a big deal."
---
"That's when real progress and real change happens, when we can all rally around a single-minded mission."

– Randy Henson, Director of Outreach for Vineyard Cincinnati Church
---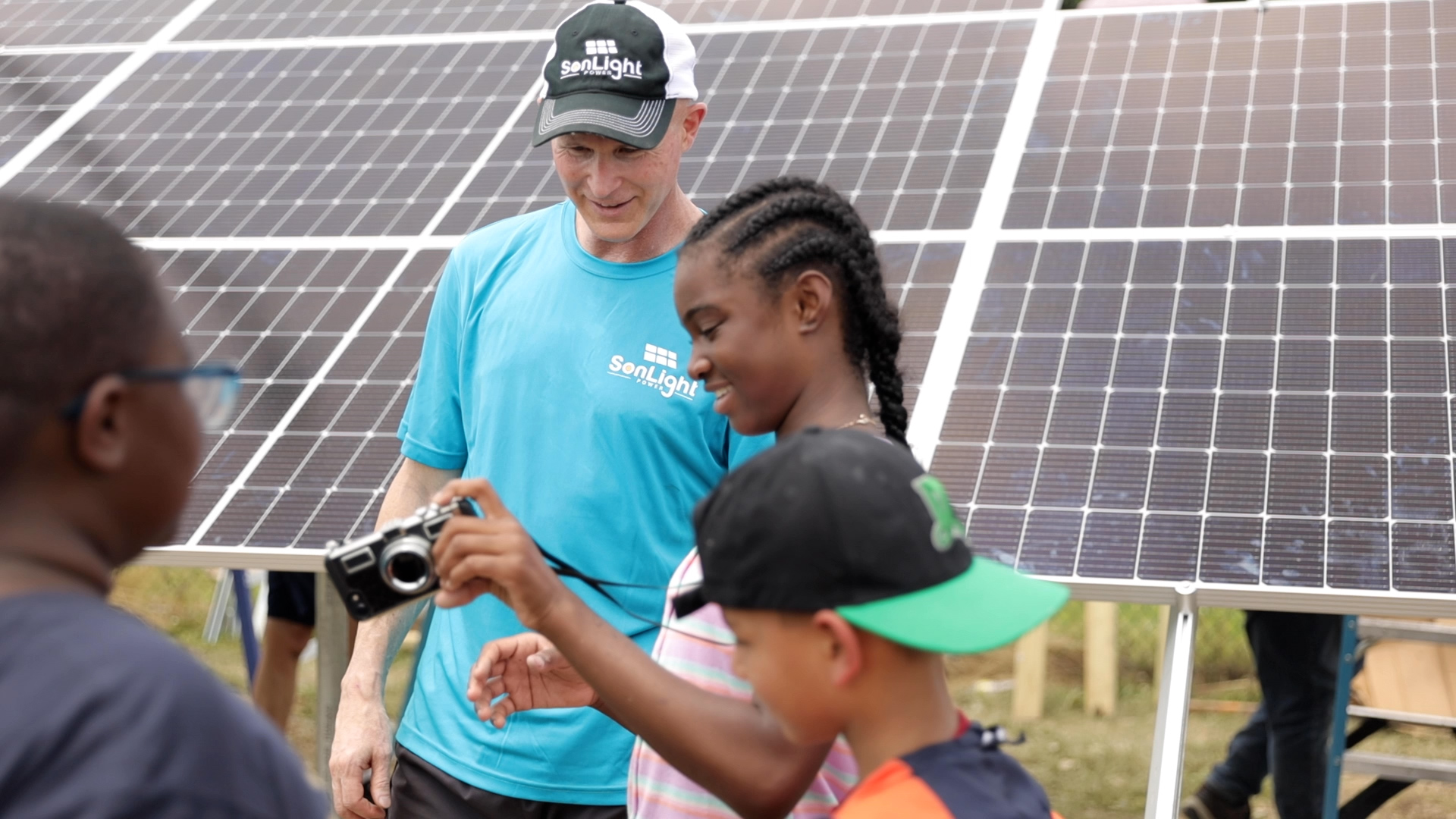 There's a lot to be excited about relative to the long-term outlook of this project. Its impact on education will take what was once taught only from textbooks into STEM concepts that teachers and students can see working in real-time at their own school. The new opportunities and hope generated by it will extend well into the future.
"We're doing something that really matters not just now and today, but generationally," says Randy. "This is going to make a big impact for many, many years to come. We want to see this area thrive."
VCC will continue to work with SonLight Power on collaborative mission projects too.
"Working hand in hand, in unison, on the same mission with SonLight Power - that's what excites me," explains Randy. "That's when real progress and real change happens, when we can all rally around a single-minded mission."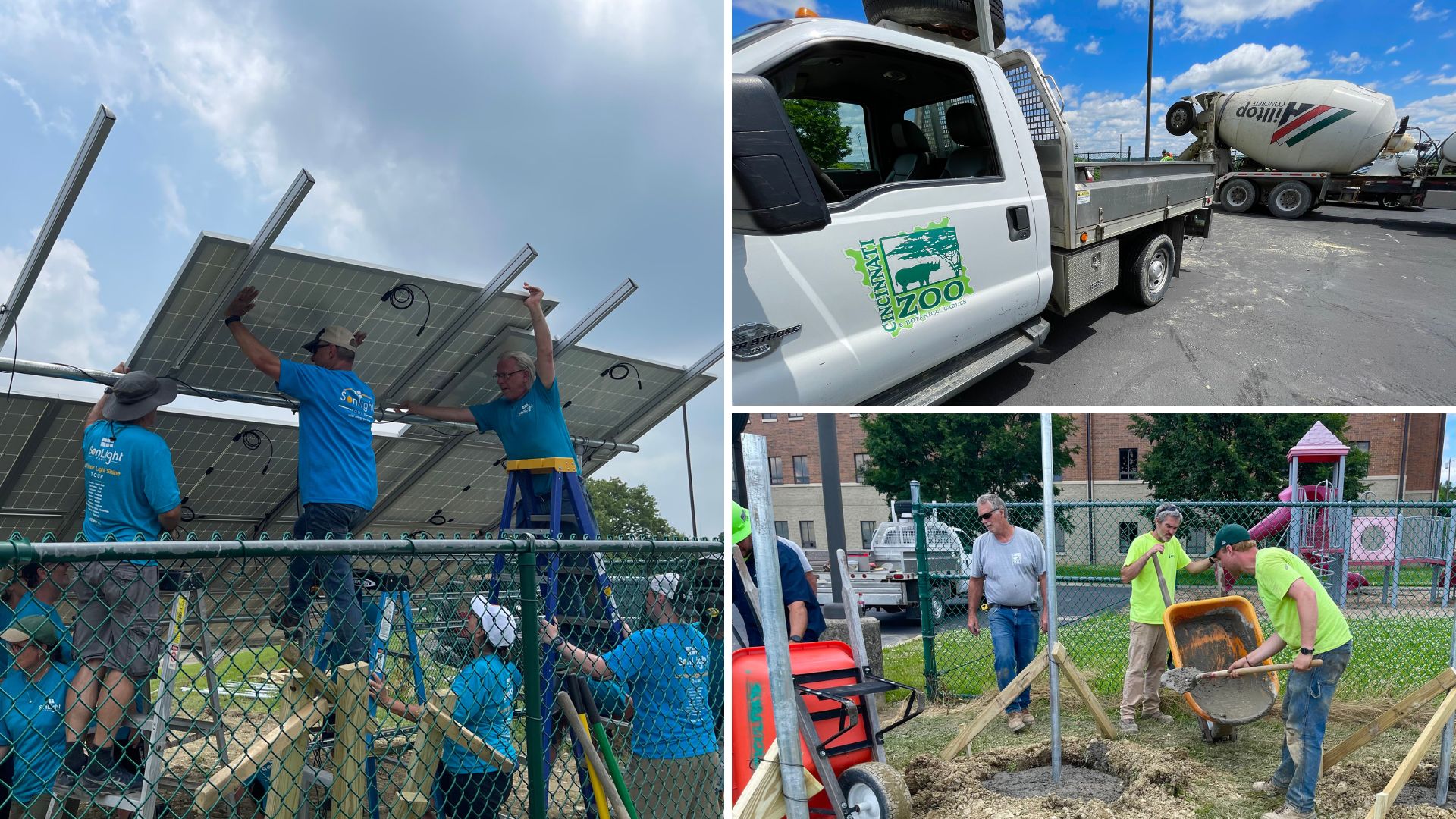 "Our biggest asset is our people," Randy continues. "We want to keep SonLight Power in front of our people, telling them that this is an opportunity to reflect your values, reflect your faith, and have the rubber meet the road. We fully endorse SonLight Power as an organization that does great things, so we want to support them the best way we can, with boots on the ground."
LHES sits atop a hill overlooking Lincoln Heights and Greater Cincinnati's I-75 corridor. The new solar array stands out as a beacon shining above the landscape.
"To know that the use of God's natural resources will impact people in a practical and tangible way and in the daily flow of learning is pretty cool," Randy says. "And there is a physical representation of that literally on that hill. Yes, it absorbs the light of the sun, S-U-N, but going into those classrooms is S-O-N."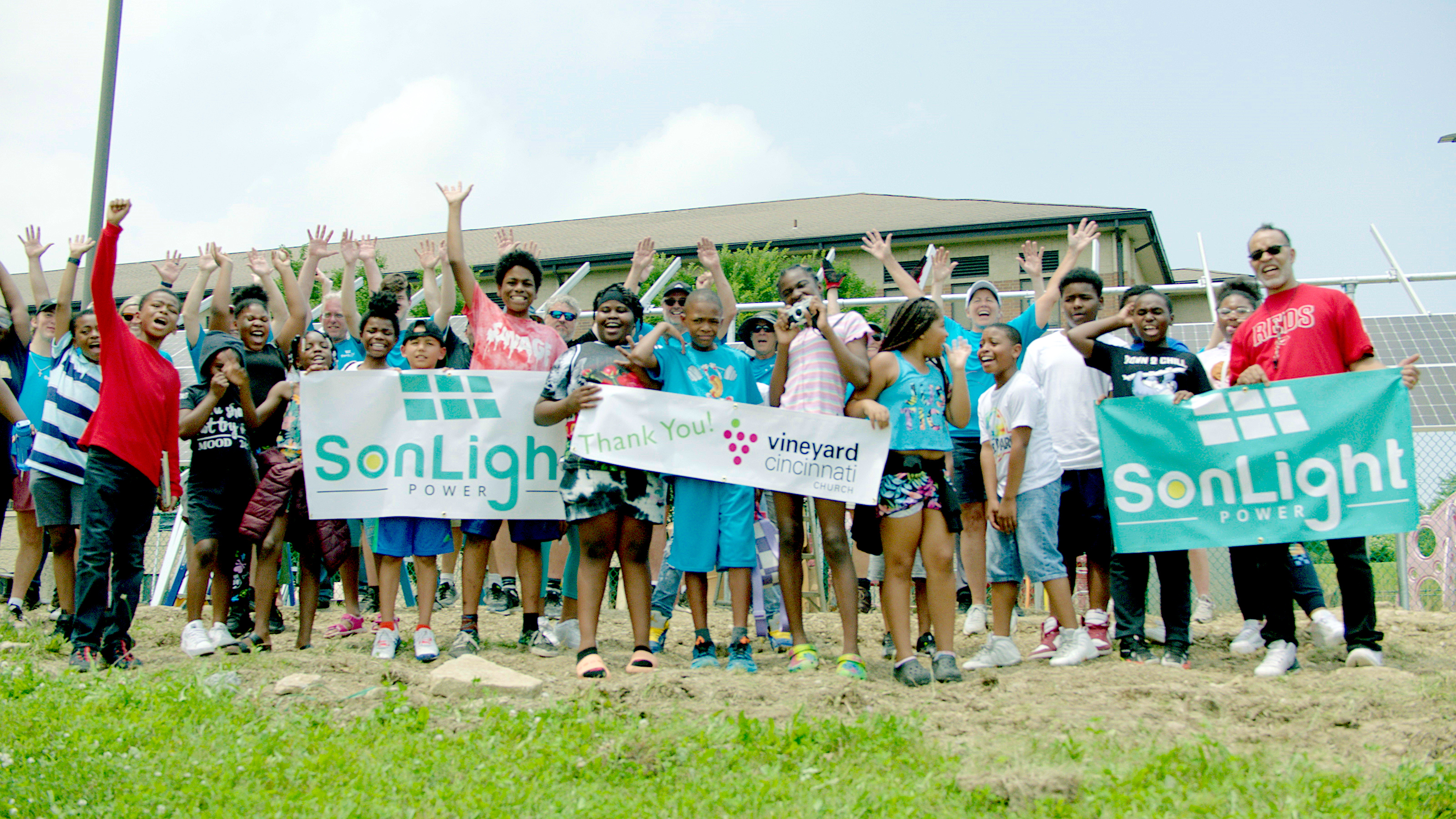 ---
Find out how your church, school, or mission organization can partner with SonLight Power on purpose-driven, Kingdom-building solar projects for lasting impact. Connect with us at Info@SonLightPower.org.
For more information: Transforming a Desert into an Urban Oasis: 2021 Community Makeover